Certificates of Graduate Study (COGS)
Certificates of Graduate Study (COGS)
Certificates of Graduate Study (COGS) at RCB
Business Acumen. Lead with Confidence. Time to Transform.
Research shows that short-term certificate programs impress employers and boost competency. Achieve mastery in a new area of interest or passion, upgrade your skill set, and make your resume stand out with a Certificate of Graduate Study (COGS).
Rohrer College of Business (RCB) offers COGS in the most industry-relevant up-to-date topics and skill sets for current professionals, prospective MBA or MS students, or anyone seeking to build up their expertise in a specific area of interest.
Each COGS consists of 3 to 5 courses and is a valuable stand-alone credential for those who want to reach the next career level.
COGS allow you to gain MBA, MS Finance, or MS Accounting course exposure before being formally admitted into a degree program. And each COGS you complete is fully transferrable into a degree program in the future.
Which COGS Aligns with Your Career Goals?
Click on each COGS to explore related career paths, courses and requirements, and to discover more about RCB and alumni.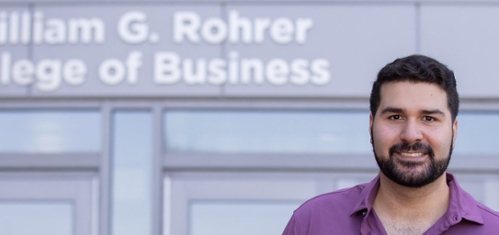 Could a COGS Be Your Path to an MBA?
Marc Castrillon opted for the Business Certificate of Graduate Study (COGS), which doubles as the required courses for the MBA program. After he took the required five courses for the Business COGS and was admitted into the MBA program, he transferred the credits into its larger, broader business degree. The accelerated pace of just 15 credits also meant Marc could complete the MBA program quickly, which he says was a motivating factor.