Business Certificate of Graduate Study
Business Certificate of Graduate Study
Unlock Your Potential
Earn a Business Certificate
The Business Certificate of Graduate Study (COGS) courses offered by Rowan University's Rohrer College of Business (RCB):
will expand your knowledge in vital areas of business, enhance your career path, and set you up for success;
are the first required courses in the MBA program at RCB, allowing students to explore graduate-level coursework before formally joining a master's program;
are a valuable stand-alone credential on your way to earning a master's degree;
are ideal for those looking to strengthen their application for the MBA program; and
are fully transferrable into the MBA program at Rowan in the future.
Stand Out in Your Field
Benefits of a Business Certificate for Current Professionals
Learning marketing fundamentals, information systems, and delving into best management practices can give your skill set a boost, increase your proficiency, and add to your competency and effectiveness as an employee or manager. Learn to strategize, solve business problems, and how to position yourself for a leadership role. Standout at your current job and give your resume a lift with a COGS in Business.
Benefits of a Business Certificate for Prospective MBA Students
The Business COGS consists of the first required courses within the MBA program, so this unique COGS is perfect for prospective MBA students who want to explore what it is like to be a graduate business student in preparation for pursuing a full degree at Rohrer College of Business.
The COGS to MBA Pathway
For students who might not be directly admissible into the MBA program at RCB, the Business COGS is an excellent opportunity to show high achievement and/or earn a GMAT waiver. Completing the Business COGS with a 3.5 GPA or higher evidences strength as an MBA candidate, significantly increases the chance of acceptance, and also waives the optional GMAT application requirement.
Find out more information about GMAT waivers or contact an admissions recruiter at GraduateBusinessStudies@rowan.edu for help planning your pathway to the MBA program.
This vital COGS also supports crossover from other fields, such as the arts, education, and communications, into business and entrepreneurship.
Why Choose a COGS?
A COGS pathway makes it possible to immediately focus on a specialized area of interest strategically tailored for your next career move or the next step in your education. The admissions process for a COGS is more streamlined than for a full degree, allowing a simpler entry point to explore graduate studies. 
Ceritificate of Graduate Study (COGS) can contribute to you earning a promotion or higher pay, expand your responsibilities in your current role, and make your resume stand out.
Gain expertise you can add to your repertoire and resume now. Elevate your strategic and critical-thinking dexterity, revitalize your skill set, improve your leadership and management potential, and give your work performance more agility and depth.
Curriculum
Learn about the impacts of external and internal influences on industries, products, and business practices and gain expertise on how to implement changes in areas ranging from information systems to accounting and marketing, to organizational culture, responsible decision-making, and technology resources management.
A Certificate of Graduate Study (COGS) in Business at Rowan's Rohrer College of Business requires the completion of 9 graduate-level credits made up of 5 courses. Find out more about the COGS in Business course offerings below.
5 Courses / 9 Credits
Foundation Courses: Yes
Graduation / Exit / Thesis Requirements URL: No
Note: To allow for some flexibility and exploration of emerging topics in business, academic departments may choose to run special topics courses in place of the below standard offerings for this COGS. This COGS may be completed in 1–3 semesters depending upon foundation course waivers at the point of admission.
Foundation Courses
FC-1. Foundations of Accounting (or Accounting I & II)
FC-2. Principles of Marketing
For those candidates who haven't taken the required foundational classes yet, fulfilling the coursework can be done in a variety of ways, such as equivalent undergraduate courses, noncredit tests, online courses, and community college classes.
Until required Foundation courses are satisfied there will be restrictions on access to graduate-level courses based on standard prerequisite settings. Review our foundation fact sheet for the most convenient way to satisfy Foundation requirements. Contact our program coordinator at graduatebusinessstudies@rowan.edu for preadmission academic advising if you'd like help planning your pathway.
Coursework Codes, Titles and Descriptions
ACC 03500 - Financial and Managerial Accounting

ACC 03500 - Financial and Managerial Accounting (3 credits)

This course takes a managerial approach with emphasis on decision-making. It includes financial statement analysis and topics on determination of cost behavior using regression analysis and learning curves, activity-based costing, cost allocation, performance measurement, and the decision-making process.
MGT 06567 - Responsible Leadership: Aligning the Interests of Stakeholders, Profit and Planet

MGT 06567 - Responsible Leadership: Aligning the Interests of Stakeholders, Profit and Planet (1.5 credits)

This course prepares leaders to act as responsible leaders, and understand responsible leadership as successful stakeholder alignment. The objective of this course is to familiarize students with the challenges and opportunities of responsible leadership. In this course, students will discuss the challenges of leading in a responsible and sustainable manner and examine the relationships between successful businesses, sustainability, ethics and positive societal impact. Students will learn how businesses can create long-term value by considering how organizations operate holistically in ecological, social and economic contexts.
MGT 06515 - Employee Engagement and Performance

MGT 06515 - Employee Engagement and Performance (1.5 credits)

Engaged employees have positive attitudes towards their jobs and employers and they are willing to do whatever it takes in order to get work done well. This course will introduce Masters of Business Administration students to the science behind employee engagement. Students are encouraged to take additional Management courses in order to enhance their employee engagement skills.
MIS 02501 - Information Systems for Managers

MIS 02501 - Information Systems for Managers (1.5 credits)

Information systems and technology are pervasive in business today. This course is designed to improve students' understanding of information systems and technology resources as well as learning how these critical resources should be optimally deployed to achieve an organization's strategic objectives. The primary focus of the course is the strategic and managerial applications of technology, which is not left solely to technical specialists; it is the responsibility of all managers.
MKT 09511 - Marketing Management Fundamentals

MKT 09511 - Marketing Management Fundamentals (1.5 credits)

Focusing on the coordination of the marketing function with other organizational functions within an organization, the course provides a broad overview of the management of the marketing function and the creation of marketing strategies intended to create and maintain competitive advantage.
Explore More COGS
To explore other Certificates of Graduate Study (COGS) offered at Rohrer College of Business click below.
Admissions Requirements
The following is a list of items required to begin the application process for a Certificate of Graduate Study in Business. Further action or materials may be required. Upon receipt of the materials below, a representative from the Rowan Global Admissions Processing Office will contact you with confirmation or to indicate any missing items.
Completed Rowan Global Application Form
$65 (U.S.) nonrefundable application fee
Bachelor's degree (or its equivalent) from an accredited institution of higher learning
Official transcripts from all colleges attended (regardless of number of credits earned)
Current professional resume
Minimum undergraduate cumulative GPA of 2.5 (on a 4.0 scale)
Eligible applicants must have successfully completed the following undergraduate foundation courses.

FC-1. Foundations of Accounting (or Accounting I & II)
FC-2. Principles of Marketing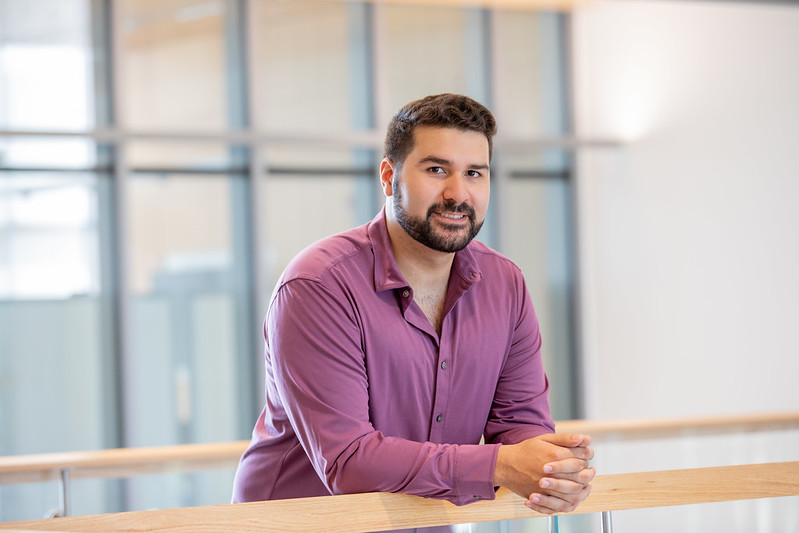 Could a COGS be Your Path to an MBA?
Marc Castrillon opted for the Business Certificate of Graduate Study (COGS), which doubles as the required courses for the MBA program. After he took the required five courses for the Business COGS and was admitted into the MBA program, he transferred the credits into its larger, broader business degree. The accelerated pace of just 15 credits also meant Marc could complete the MBA program quickly, which he says was a motivating factor.
Admissions Information
View admissions requirements, tuition rates, and application deadlines. Connect with Admissions or contact an Admissions Recruiter who can directly answer your questions.
Attend an Information Session
During our Program-Hosted Info Sessions, you'll learn about curriculum options, how our programs fit into a variety of career paths, admissions requirements, tuition and financial aid, and other important points for your planning and decision-making needs.
Learn More About Our Students and Alumni
Our MBA, MS Finance, Certificate students, and alumni bring a wide range of industry experience and varied career goals to the Rohrer College of Business (RCB). To learn more about some of our brightest RCB students and alumni, check out these select stories to get a sense of who might be your new contacts if you join us as a student or the type of talent you might hire if you're looking to grow your team.