BS/MS Finance 4+1 Program
BS/MS Finance 4+1 Program
Joint Degree: Bachelor of Science in Finance & Master of Science in Finance CADP 4+1 Program
Coming this Fall, Rowan University is planning to offer a CADP (Combined Advanced Degree Program - formerly 4+1) accelerated dual degree program where students can earn a Bachelor of Science in Finance and a Master of Science in Finance in 5 years. Students in this program will take 12 credits of the 30 credit MS Finance program as a senior, saving time and expenses – a full semester and over $5,000 – on their MS Finance pursuit.
A BS in Finance prepares students to pursue career opportunities in such areas as financial analysis, cash management, credit analysis, pension and investment fund management, capital budgeting analysis, investment and commercial banking, and securities management.
Pairing the BS in Finance with the MS in Finance through this CADP 4+1 program develops students to advance their financial career into more advanced quantitative roles. The MS Finance prepares students for financial analyst and financial planner positions in corporations and financial institutions. Coursework also helps students to prepare for the CFA (Chartered Financial Analysts) and CFP (Certified Financial Planner) exams, the premier certifications in the finance field.
The MS Finance program is designed with a combination of quantitative techniques and practical experience and provides in-depth exposure to finance related issues and research. Each course is taught by our highly qualified faculty, who have earned Ph.D. degrees and hold respected national and international reputations.
Interested in learning more about the upcoming BS Finance/MS Finance CADP 4+1 program? Please send us an email at GraduateBusinessStudies@rowan.edu with any questions you may have. While details for the accelerated BS Finance/MS Finance CADP 4+1 program are still being mapped out, we can still share general information with you regarding the program.
We look forward to welcoming you to the program!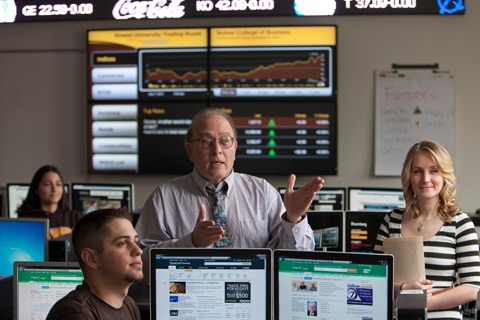 MBA Fellowship Finance - Innovations and Impact
The Fellowship for Innovations and Impact, supports the pursuit of a Masters of Science in Finance (MSF) by professionals driven to become finance executives and change agents that will innovate by focusing on positively impacting everything, from sales and marketing to product development and customer satisfaction, and more broadly for society as a whole in areas such as economic and social equity, corporate social responsibility, the circular economy, infrastructure and transportation, clean energy, and/or environmental challenges. 
MBA Fellowship - Finance
Related Programs of Interest
Finance Advisory Board
The purpose of the Finance Advisory Board is to advise the Rohrer College of Business Finance Department Head and faculty in helping students achieve their goal of pursuing a career in a finance-related field. The Board's objectives are to actively support students in achieving success both in their academic and career pursuits. Further, the Board strives to assist the Finance faculty in the delivery of a leading edge curriculum by providing input on emerging trends in the practice and development of finance. Finally, the Board promotes the RCB Finance Program to external constituencies and participates in appropriate business-faculty-student interaction activities.