Fellowship Mission
Fellowship Mission
This is Our Fellowship Mission. What's Yours?
The MBA and MSF Fellowship program combines scholarship funding, mentorship, and opportunities to develop and extend business acumen. The purpose of the Fellowship is to propel change agents into the next stages of their careers. The RCB Fellowship program is designed to empower a journey that incorporates positive social impact as a core feature no matter the industry or role.
Fellowship awards range from $500 to $30,000 per student. Rohrer College of Business Fellows complete meaningful and relevant initiatives to make a positive impact locally, regionally, and globally.  
B

ecome a

Part of the RCB Fellowship Miss

i

on
Fellows align with RCB's mission 
to
 achiev
e positive 
SOCIETAL TRANSFORMATION
by develop
ing
future
CHANGE AGENTS 
as
active participants
on initiatives that serve their peers and 
communities. Fellows strive to
MAKE AN IMPACT
 within an organization
 related to their interests.
Rohrer College of Business (RCB) offers Fellowships to outstanding MBA and MS Finance students who demonstrate a strong potential to act as change agents in their fields, across industries and organizations, by applying business expertise to benefit society in profound ways. 
Our mission is to: 
contribute to the region's thriving businesses and sustainability;

 

develop a student population

that

positively impacts the local community and beyond;

support self-directed high-achievers with a drive to

pursu

e

societal goals while improving business functions

and

outcomes

; and to

 

hone leadership attributes, a crucial part of transforming the next generation of business professionals.

 

 

 
All RCB Fellowships are made possible through the generosity of the William G. Rohrer Charitable Foundation. 
Driving Principles Behind the RCB Fellowship Program
Our Fellowship program aligns with the Principles for Responsible Management Education (PRME) to advance corporate social responsibility through the incorporation of universal values into curricula, research, and professional growth opportunities. The RCB Fellowship program also upholds Rowan graduate-level business school stakeholders' goals and values, such as the Rowan Center of Responsible Leadership and the RCB mission and vision at large. 
The PRME Six Principles, inspired by the United Nations Global Compact, exemplify the types of business-related issues RCB Fellows will address in their initiatives. By taking action, becoming change agents at the local or community level, and preparing future leaders to solve real-world problems, together we can make a global impact.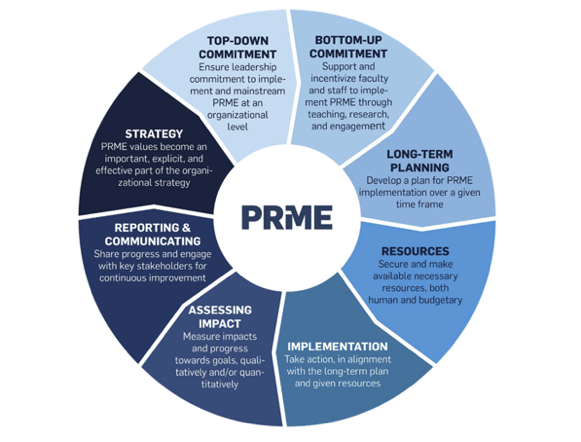 Fellows Go Beyond the Expected 
The Fellows RCB chooses to collaborate with will align their Fellow duties and career trajectories with our mission to achieve positive societal transformation while becoming an economic catalyst for the region. They will seek to advance the Rohrer College of Business's vision and mission.  
Fellows will have outstanding qualities already in play that, with RCB's support, will help us achieve our shared mission together.  
Ideal RCB Fellows: 
will be self-directed and driven to accomplish great things;

 

will embrace challenges and opportunities to bring their visions to reality;

 

have a well-developed area(s) of interest, ideas, and aspirations;

will have forged relationships and experiences in their business and social passion areas; 

know how to attain results; 

are valued and respected by their current peers, supervisors, direct reports, and mentors; and

 

are already on their way to becoming change agents, in their mindset and in their career choices. 

 
RCB's Commitment to Keeping Fellowships Flexible
Fellows will lead and support an initiative or set of initiatives. One long‐term initiative might span every semester of study through graduation. Multiple short-term initiatives might occur within a given semester or across semesters. RCB is committed to staying flexible so Awardees can balance their Fellowship with their career, family, and academic obligations. 
Awards
Awards are distributed each semester based on credits enrolled, projects being pursued, and individual Fellow Award agreement details.
Projects
RCB is eager to assist prospective Fellows with crafting meaningful, relevant projects that will respond to crucial social needs and solve business-related issues.
Learn More About the Guild of Change Agents You Will Join as an RCB Fellow
Read about past and current Fellows' projects and passions by clicking below.