Campus and Community
Campus and Community
Campus and Community
RCB's Advantageous Location
Rowan University's Glassboro campus, where Rohrer College of Business (RCB) is located, is nestled into a beautiful, foliage-filled landscape in the heart of Southern New Jersey, surrounded by thriving industry, local commerce, farmland, and quaint towns. RCB is a short walk to lively Rowan Boulevard, complete with shops, restaurants, a brewery, and contemporary mixed-use housing for students and community members.
At RCB, you'll experience a tight-knit, personal, supportive, and welcoming community. The Glassboro campus is only a few-hour's car, bus, or train ride from four major U.S. cities (Philly, NYC, Baltimore, and D.C.) bursting with culture, art, and entertainment and abundant with career opportunities in every sector of business. RCB is ideally located for achieving educational growth while cultivating professional success.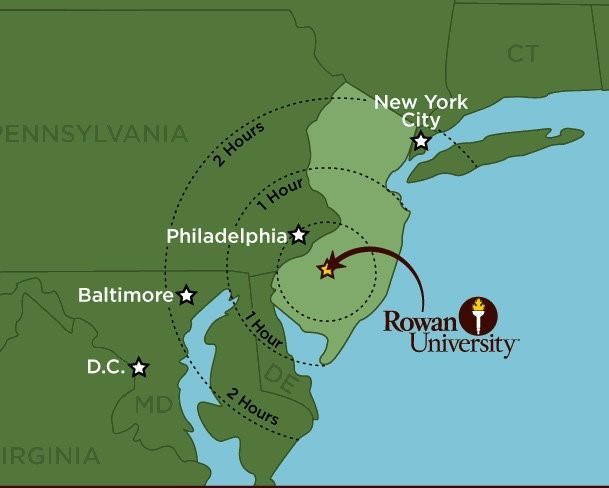 Philadelphia: With museums, concerts, sports teams (with the best fans in the world), major businesses and industries, Philadelphia is less than 20 miles away from Rowan University and easily accessible by public transportation. Philadelphia has major historical significance as the location of the Liberty Bell and the nation's first capitol.
Washington D.C.: The nation's political capitol, also rife with historical significance, is a little over 2-hours' drive by car and less than an hour from Philadelphia via (express) train.
New York: The nation's financial and cultural hub is about a two-hours' drive north of Rowan University and less than an hour by express train from Philadelphia.
Downtown at Rowan University: Visit Rowan Boulevard, a safe, shared community space bustling with businesses, great food, and fun places to gather, such as a Barnes and Noble, the Whitney Center retail stores, and a town square for festivals, concerts and shows. Helping to make Rowan a "quintessential college town," Rowan Boulevard has many restaurants and shops to choose from, including the Axe & Arrow, a brewery owned by a Rohrer College of Business alum.
Accommodations: Rowan University has a Marriott Courtyard conveniently located right on campus.
Jersey Shore: Rowan University is less than an hour's drive to Atlantic City and adjacent beach towns, such as Margate, Ventnor, Ocean City and more. It's also within easy driving distance to Stone Harbor, Wildwood, and Cape May, the latter two being quite well known for their unique architecture. Wildwood is considered the "doo-wop capital" with its 50s style hotels, and Cape May features dozens of Victorian era bed-and-breakfasts. Southern New Jersey claims some of the cleanest beaches in the state and nation, many of which contain animal sanctuaries and preserved wetlands. Each beach community has unique attractions, from sprawling boardwalks with rollercoasters and other rides, to waterslides, concerts, festivals, summer celebrations, and more.
RCB's Business Hall
Where Transformation Happens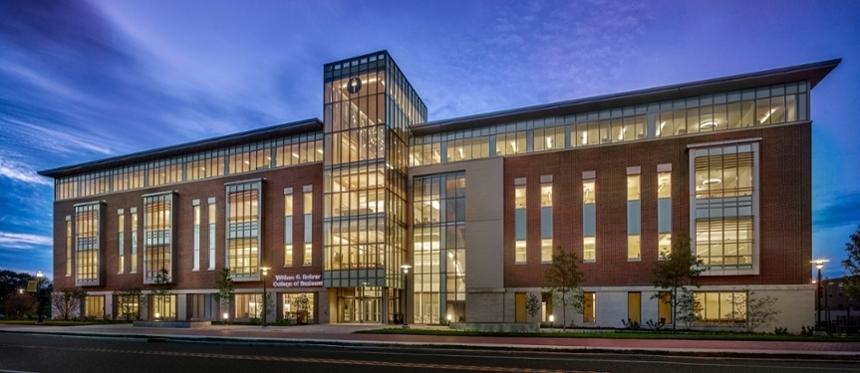 RCB's spacious Business Hall, newly built in 2017.
Business Hall is home to RCB. It features classrooms located in close proximity to faculty offices, student services, collaboration rooms, and informal spaces for spontaneous interaction. Business Hall also has a state-of-the-art trading room with 12 Bloomberg trading terminals.
Upon entering the main lobby, you will find a light-filled space that serves as a communal lounge, event space, and home to the Saxbys café. The café serves as an experiential learning platform for undergraduate business students, who are immersed in all aspects of its operations, applying in-class learning directly in this student-led business setting. And the food and coffee at Saxbys are excellent, too. The first floor also features sitting areas where students can meet or spend some quiet time studying. A graduate lounge to hangout in or work on projects is located upstairs near the RCB Program Team offices.
In Business Hall, students have access to state-of-the-art technology, video conferencing equipment, and other resources that enable them to better craft their narratives and develop their business models to compete in an ever-changing business world.
The new School of Innovation and Entrepreneurship (SIE) is housed in Business Hall. All Rowan students are encouraged to explore innovation and entrepreneurship at the Rowan Center of Innovation and Entrepreneurship (RCIE) and are welcome to apply for the Rowan Innovation Venture Fund.
Business Hall also houses the Rohrer Center for Professional Development (RCPD), which is dedicated to helping RCB students build job search and career skills, and the Rowan Center for Responsible Leadership (RCRL).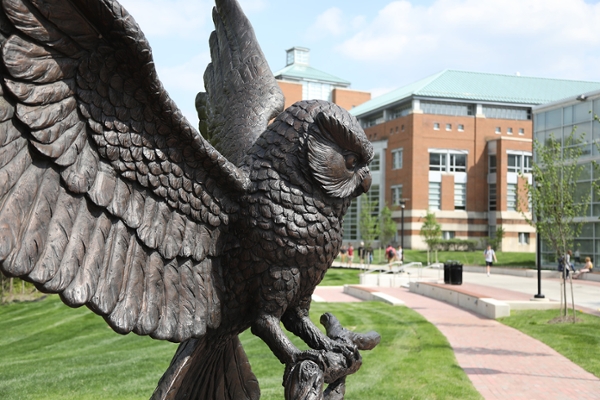 Research, Community, Innovation, and Program Growth
Even with a strong commitment to keeping education costs affordable for students, Rowan is gaining momentum—and national recognition—in key areas leading to increased enrollments and rankings.
In the University's most-recent accreditation review, a team from the Middle States Commission on Higher Education called Rowan a "model for institutional transformation." Unsatisfied with incremental growth and change, Rowan University continues to press forward, leapfrogging traditional thinking and innovating higher education. 
Downtown Rowan University Highlight
Popular Brewery Owned and Run by RCB Alum
Krystle Lockman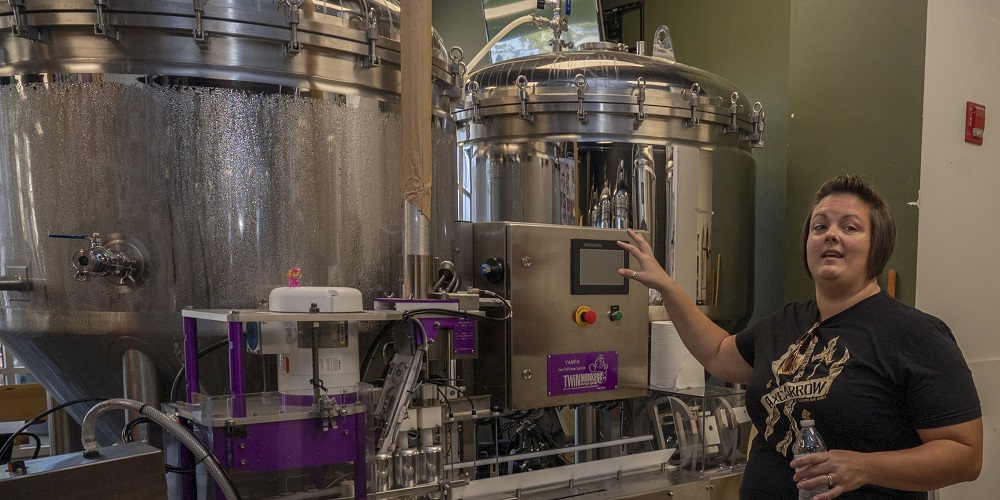 Krystle Lockman is the Co-Founder & Operations Manager for Axe & Arrow Brewery on Rowan Boulevard in Glassboro, New Jersey. Following a decade working in operations as an accountant, Krystle earned her MBA from Rohrer College of Business with a Concentration in Accounting in 2018. The MBA fueled Krystle's career shift, serving as the catalyst for launching her own business with her husband, a self-taught beer brewer.
At Axe & Arrow, Krystle oversees finance, marketing and compliance and helps to manage the brewhouse, which has since become a go-to destination in Rowan's busy downtown area.
Opening the Axe & Arrow: More About Krystle
Watch: Krystle Lockman '18 Uses MBA To Operate Successful Glassboro Brewery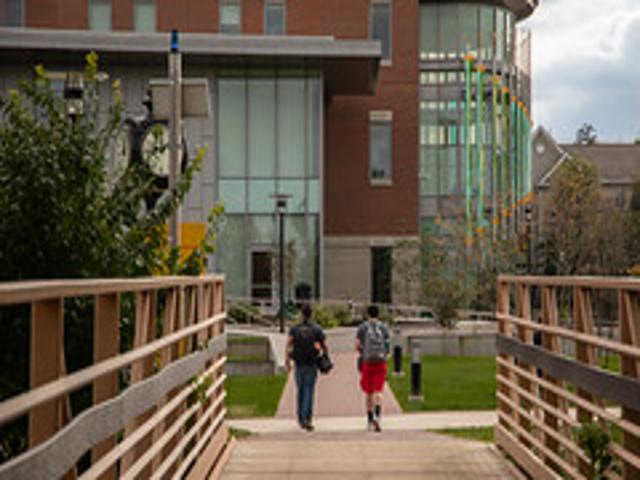 Your New Network 
RCB Student and Alumni Highlights
Our MBA, MS Finance, Certificate students and alumni bring a wide range of industry experience and varied career goals to the Rohrer College of Business. To learn more about some of our brightest RCB students and alumni, check out select stories to get a sense of who might be your new contacts if you join us as a student.
We Welcome You to Our Community!