Student and Alumni Advisory Board (RGSAAB)
Student and Alumni Advisory Board (RGSAAB)
Rohrer Graduate Student and Alumni Advisory Board (RGSAAB)
Community Engagement and Networking
The Rohrer Graduate Student and Alumni Advisory Board (RGSAAB) members are actively engaged in building shared community connections that elevate the student and alumni experience along with the reputation of Rohrer College of Business (RCB) graduate programs. Through the power of networking and relationship building, seminars and discussions, and other initiatives, we strive to cultivate and celebrate the diversity, leadership, and professional excellence of our students and alumni around the world.
What We Do
As RGSAAB members, we are proud to support new students' onboarding, provide insight and input on curriculum development, and serve as brand ambassadors representing the best of the MBA and MS Finance programs in our industries.
Join Us
If you are interested in learning more about how to become an active member of the RGSAAB please reach out to GraduateBusinessStudies@rowan.edu.
Networking Opportunities
Building Relationships
We offer a combination of in-person and virtual networking events each semester that allow our students to create connections with MBA and MS Finance students and alumni and gain insights from executives across a range of industries. Building relationships and a professional network are a vital aspect of being a graduate business student. All students and alumni are encouraged to attend events hosted by RGSAAB and the Graduate Business Programs office.
Events We Have Hosted
We have hosted a variety of events, such as visiting a brewery owned by a Rowan MBA alumnus, a day at TopGolf, and professional development events such as Q&A sessions with industry experts.
Attend Our Events
Such events are valuable for all in attendance, and we welcome all students and alumni to join us for future events filled with good times, new connections, and fun experiences. 
For the most up-to-date event details and RSVP information, please visit the RCB Events page.
RGSAAB Member Profiles
Client Satisfaction and Sales | Entrepreneurship and Business Development | Management and Cosmeceuticals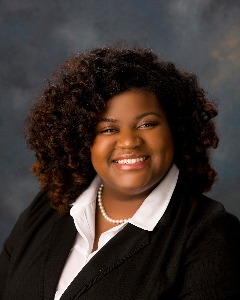 Gabrielle Jean-Baptiste currently serves as a Senior Analyst - Manufacturer Operations at AmerisourceBergen. Prior to her role as Senior Analyst, Gabrielle worked for Lannett Company as a Client and Sales Operations Specialist, utilizing SAP ERP to provide impeccable service to clients and patients. Her job functions included client management, order monitoring, order processing, inventory management, and pricing analytics. Gabrielle also has four years experience as a Supervisor and Assistant Manager at the famous Carlo's Bakery and over six years experience in resolving complex customer inquiries, generating sales, improving task inefficiencies, and performing administrative duties. Gabrielle enjoys entrepreneurship, cooking, baking, traveling, reading, and creating natural organic skincare products. With experience in management, pharmaceuticals, sales, skincare formulation, and customer service, her dream is to work in the cosmeceutical industry and use that experience to create her own company. Gabrielle graduated with her BS in Business Management from Rowan University in 2017.
Physician and Psychiatrist | Business of Medicine | Entrepreneur
Dr. Nathan (Nate) Carroll is a physician and resident psychiatrist at Jersey Shore University Medical center. Nate is passionate about improving patient outcomes and reducing physician burnout by connecting the practice of medicine with the business of medicine. As a medical student who had just recently achieved completion of an MBA, Nate founded two significant ventures for Rowan students seeking to pair business acumen with medical expertise to improve patient outcomes, increase effectiveness, and expand access in medical care: InvestMed, a business of Medicine Club and Project Nest, a healthcare-focused entrepreneurial business plan competition for medical and MBA students. He also helped launch SeeThru, a healthcare start-up that focused on transparency in healthcare pricing. During his pursuit of his Doctor of Osteopathic Medicine, Nate was awarded the James Fox Endowed scholarship, the Richard L. Davis, FACMPE / Barbara B. Watson, FACMPE scholarship, and the DaVinci scholarship based on his academic and professional accomplishments. Nate also serves as CEO of BreakThru Mentoring, which works to connect pre-medical students with student doctors and resident mentors. When not working he enjoys teaching karate, reading, and travel. Nate earned his DO at Rowan's School of Osteopathic Medicine (2021) and his MBA at Rowan's Rohrer College of Business.
Human Resources Management | Corporate and Non-Profit Realms | Project Management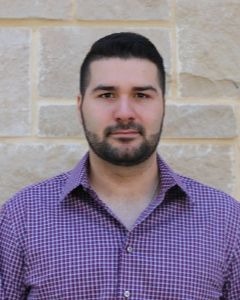 Marc Castrillon is an Account Executive for CBA Elevator Consultants. Prior to his role as Account Executive, Marc served as a Business Development Representative for Compensation Tool, a firm that supports the day-to-day needs of compensation practitioners through a clean interface with intuitive processes for benchmarking and reporting. He has a wide range of work experience in compensation and benefits, customer service, other functions of HR, project management, and B2B relationship building in multiple industries. Marc is intrigued by opportunities to improve employee engagement and retention and seeks to expand expertise and impact for both organizations and team members. Prior professional roles and internships include Executive and Sales Compensation for LabCorp, project management in a nonprofit, sales and customer service at Enterprise Rent-A-Car, and Recruiting and B2B relations within an elevator/escalator consulting firm. Marc enjoys connecting people with each other for mutual gain and creating environments that foster great ideas from diversity, and we are fortunate that he serves as the Director of Community and Membership for RGSAAB. In his spare time, Marc enjoys bike riding, snowboarding, playing video games and cooking. Marc graduated from Rowan University in 2019 with a dual BS in Management and Human Resources and completed his MBA in Spring 2021.
Colin Cox, MS Finance Alumni, 2020
Financial Analyst | Prior Service Army National Guard | Economic Development and Social Entrepreneurship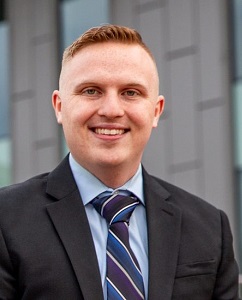 Colin Cox is a 2020 graduate of the MS in Finance program and is in a financial analyst role as part of at Lockheed Martin's Finance Leadership Development Program. Colin began his journey after high school by enlisting in the Army National Guard as a UH-60 Black Hawk Mechanic. After completing initial entrance training, Colin started at Rowan in fall of 2016 in pursuit of a BS in Finance, while simultaneously serving as a Black Hawk helicopter crew chief (aircrew). This experience along with a position as a student worker in the Rohrer College of Business Dean Suite provided Colin with the skill set necessary to take on an analyst role at Lockheed Martin upon his graduation in 2019. While working at Lockheed and pursuing his MS in Finance Degree, Colin began working towards his passion of personal finance by starting a financial literacy blog. Using the tools acquired at Rowan University and with the military, he hopes to enhance the economic position of those in the lower and middle class. 
Kevin Garvey, PharmD, MBA Alumni, 2020
Pharmacy Management | Long-Term and Geriatric Operations | Improving Patient Outcomes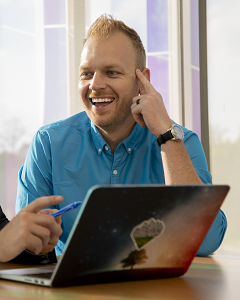 Kevin Garvey is a Clinical Director at ELMC Rx Solutions, LLC. Prior to his role as Clinical Director, Kevin spent the first 8 years of his career as a practicing pharmacist at Omnicare Pharmacy, a CVS Health company. Kevin owned a variety of roles throughout his time with Omnicare, including overseeing day-to-day operations of the regional hub in King of Prussia, PA. Kevin thrived in the fast-paced, long-term care environment with his passion for leveraging his clinical expertise to help improve patient outcomes. Kevin loves to be challenged, enjoys learning new skills, and seizing on new opportunities. Kevin currently resides in Philadelphia, Pennsylvania, is an avid sports fan, cat enthusiast, and loves to golf as much as possible. Kevin graduated from the University of Rhode Island in 2012 with a Doctor of Pharmacy degree.
Comcast Business | Compliance and Risk Analysis | Contract Management
Amelia Gonzalez is currently a Contract Administrator with Comcast Business and a former soldier in the NJ Army National Guard. Prior to her current role, Amelia worked for the Army National Guard for over 8 years, where she enjoyed mentoring early career soldiers, providing them with guidance and support to set and attain personal and professional goals. As a Recruiting and Retention Noncommissioned Officer (NCO), she helped enlist soldiers into military careers, established accountability of soldier fitness programs, oversaw academic performance in professional military education (PME) requirements, and certified readiness to ship out to training. She has also served in Specialist roles in Food Service and Human Resources in the National Guard. In civilian roles, she worked in marketing, sales, and event management in the entertainment industry at the NJ shore. In addition to serving her country in her full-time job and pursuing her MBA online part-time, the coolest job she's ever had is wife and mom to four boys: she loves the fun-filled chaos that comes with each day with her family! Amelia earned her BS in Marketing at Hofstra University.
Banking and Commercial Credit | Team Building | Mentoring for Impact
Lauren Kirk is a VP-Credit Underwriter Team Leader, C&I, at Univest. Prior to this role Lauren was a VP Portfolio Manager at Wilmington Savings Fund Society (WSFS). With more than 19 years in the banking industry, her expertise includes consumer, commercial, credit risk, and cash management. She enjoys building strong teams and mentoring junior staff and aspires to bring her leadership skills to the executive level. Lauren helps facilitate professional development and industry connections for our MBA and MS Finance students through her work as moderator for the Ask Me Anything sessions, during which industry experts share valuable insights via Q&A sessions in virtual meetings. She was named the recipient of the 2021 Lynch MBA Scholarship based on excellence and promise in areas of leadership, engagement, and commitment to growing the stature and reputation of the Rohrer MBA. Lauren graduated Cum Laude with her BA in Business Management, with a certificate in Compliance, from Wilmington University. As a wife and mother to three young boys (two of which are twins)—plus a full-time job plus part-time MBA studies—she has become a time management expert. She enjoys community involvement by being an active member of her son's school association. She also enjoys traveling, reading, and volunteer work.
Healthcare, State and Local Government | Transformation Delivery | Advisory Consulting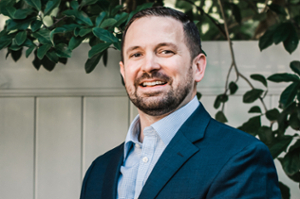 John Knapp is a Senior Associate at KPMG in their Advisory Practice. John collaborates in tandem with KPMG's Program Delivery, Change Management, and Product Experience Design teams to deliver strategic, transformative, lasting impact to healthcare payers, providers, local, state, and federal clients. Prior to joining KPMG, John was the Project Manager at Wills Eye Hospital, responsible for overseeing Wills's electronic medical record (EMR) system and led the implementation of several cloud-based software solutions. John functioned in tandem with Wills's Nursing Leadership team to promote a quality patient experience and ensure the hospital was meeting all necessary regulatory and safety requirements. His experience working in fast-paced, diverse work environments has enabled him to effectively communicate and collaborate with clinical care teams, executive leadership, and both internal and external clients, stakeholders, and vendors. John aspires to one day partner with leaders of the medical industry to assist in solving society's most costly medical challenges. In his free time, John enjoys traveling, reading, exercising and enjoying the outdoors. John earned his Bachelor of Science at Siena College in Loudonville, NY in 2009.
Marketing and Branding | Events and Trade Shows | Social Media and Communications
Natalie Lyons Garvey is a Marketing Manager at Edmund Optics. She owns key special marketing projects across trade shows, virtual events, communications, employer branding, social media, outreach programs, and other marketing-related efforts globally. She has leveraged her MBA into a more strategic, leadership role in the marketing department and recently spearheaded half-day virtual summits about different areas of optical sciences which have been received very well by attendees globally. She hopes to continue to grow her expertise in all areas of marketing and nurture her role in marketing management. Natalie lives in Philadelphia, Pennsylvania, with her husband and four cats and enjoys reading, travel, and self-care. She received her undergraduate degree in Food Marketing from Saint Joseph's University in 2010.
Finance | Social Equity | Change Agent
Michelle Martinez is the inaugural recipient of the RCB MBA Fellow in Innovation and Impact. As an MBA Fellow, she is driven to make a positive impact in the area of finance and social equity. Michelle began her career in banking and investment management at TD Bank where she carried out customer service and account management functions including addressing financial challenges and providing support and tools for clients to achieve financial security. She then worked for the Vanguard Group where, as an Investment Specialist, she educated clients on the Vanguard family of funds. Michelle also directed and led a range of fundamental client-advisor support functions for a team of financial advisors in Bethesda, Maryland. In her current role, she assists brokerage firms in meeting their regulatory and compliance needs. Michelle is a socially conscious investor who seeks to collaborate with other visionaries on addressing long-standing disinvestment and financial capability issues within underserved communities. Michelle enjoys exercising, hiking, reading and volunteering. She earned her undergraduate degrees in Marketing and Management Leadership from La Salle University in 2013. Michelle resides in South Jersey with her family and her dog.
Banking | Relationship Management | Financial Analysis
Brian Sforza is a Vice President within PNC's Corporate & Institutional Bank and manages a portfolio of clients throughout New Jersey and the greater tristate area. Throughout his tenure with PNC, Brian has worked on multiple acquisition teams, helped to develop PNC's corporate internship program, and has led and supported numerous other process improvement and product-specific projects. Prior to his current role, he completed 1.5-year executive rotation program in Pittsburgh with the bank's senior management team, following his graduation of PNC's corporate banking development and credit training program in 2009. Brian is an active volunteer of PNC's Grow up Great program and serves as a board member at a local preschool. He earned a Bachelor of Science in Business Administration with a concentration in Finance from Monmouth University in 2008 and currently resides in Cherry Hill, NJ.
Business of Healthcare | Organizational Development | Change Agent
Kellie Stout is a Director of Ambulatory Operations at Cooper Hospital. She leads the ambulatory operations team in the oversight of a patient call center, is a credentialed EPIC instructor, and provides data analysis for the department. Kellie has been in the medical field for over 30 years. She collaborates with many teams and key stakeholders to develop and implement process improvement plans to contribute toward achieving key organizational goals on patient safety and satisfaction, quality performance, and fiscal responsibility. Kellie has been an active member in her community, including leadership roles in girl scouts, cub scouts, and little league, and an elementary school board member. She currently sits on the Sterling High School Board of Education, chairs the human resources committee, and is the school board county delegate. Kellie is the mother of two young men, aged twenty-one and seventeen, and is proud that both have earned the rank of Eagle Scout. Kellie enjoys reading, spending time with family and friends, and volunteering. She earned her undergraduate degree in Accounting from Glassboro State in 1991. Kellie resides in her hometown with her boys and two cats.
Information Technology Specialist | Project Management | NJ Air National Guard
Jordan Wisser is a Technical Sergeant in the New Jersey Air National Guard striving to grow as a better leader and business professional. He has a passion for personal development and aspires to lead IT professionals toward breakthroughs in the technology industry. Jordan is a CompTIA Security+, Project+ certified IT Specialist with technical training and experience concentrated in Information Systems Management, Project Management, and IT Best Practices. He was named the 2020 recipient of Rowan's Greg Angelucci Veterans Scholarship based on excellence and promise in areas of leadership, engagement, and commitment to growing the stature and reputation of the Rohrer MBA. Jordan is passionate about fitness, cooking, travel, and all things Philadelphia sports. Jordan earned a BSBA in Computer Information Systems and AS in Business Administration from Thomas Edison State University. He also earned an AS in Information Systems Technology from the Community College of the Air Force.