Networking Events
Networking Events
Upcoming Graduate RCB Events
Building your relationships with classmates, alumni, faculty & staff is an important part of our Graduate Business Student community. Join us for upcoming fun networking events!
Spring 2022 Events are currently being finalized, and will be posted here soon. ​
---
*Off-campus events, will follow the policies of the host location regarding masks/vaccines (vs. Rowan campus policies). We intentionally chose locations and events that include fresh air and room for social distancing. If there are any concerns about the setup please do ask in advance and we'll help you find the details needed for you to make the best decision for your own personal comfort. We will also continue to monitor the public health situation to determine whether modifications in current protocols are appropriate.
Recent RCB Events
November 13, 2021: TopGolf - Networking with activities!
TopGolf Networking
MBA students, alumni and guests enjoyed hanging out with friends, eating some good food and having fun at TopGolf. TopGolf was a mix of fun, easy-going games that were a good fit for everyone. This event was a fantastic opportunity to build your professional and personal network in a laidback environment. Those experienced with golf demonstrated to our less experienced attendees some pointers on how the game is played so even the beginners had a good time. All-in-all, this event was an event to remember.
Event Date: Saturday, November 13th
Time: 12:45PM – 3:00PM
Location: 104 Centerton Rd, Mt Laurel Township, NJ 08054
November 8, 2021: ProjectNest - A Healthcare Case Competition
ProjectNest: A Healthcare Case Competition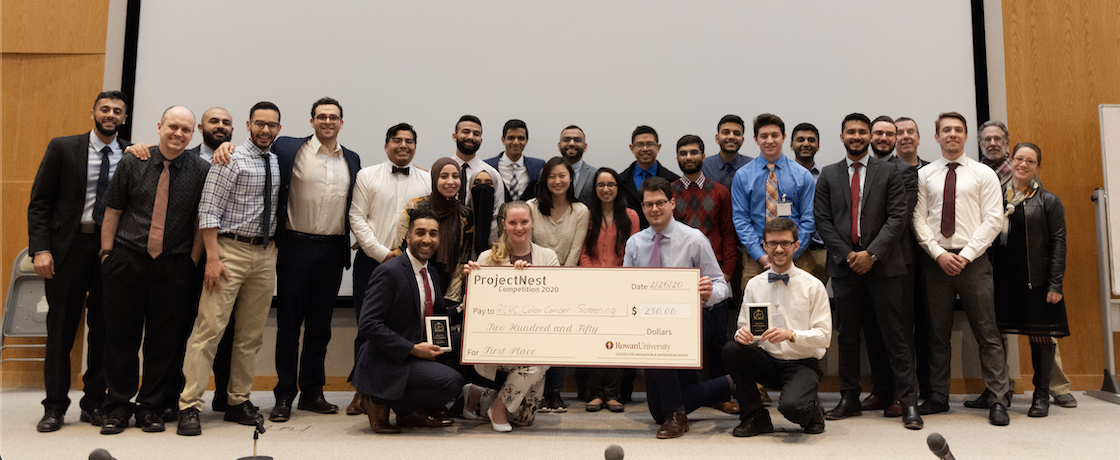 For those interested in a career in the healthcare industry -- and see value in an entrepreneurial mindset and business expertise informing medical systems -- this event was a great experience for relationship building at the intersection of healthcare and business.
The student leaders in the InvestMED Club (
RowanSOM
's Business of Medicine Society for DO/medical doctor candidates) were eager to partner with MBA students for a cross-disciplinary case competition via ProjectNest: A Healthcare Case Competition.
You do not need expertise in healthcare, or a business case in mind, to participate.
Several teams made of up DO students from RowanSOM (Students of Osteopathic Medicine) sought out MBA students to join their teams to contribute business expertise as they polished up and finalized their cases for the competition. This annual event includes institutional support and cash prizes for the winning ideas to be implemented. Only 2 short years ago, one of our MBA students and their team won the competition!
Event Date: Monday, November 8th
Time: 6:00pm to 9:00pm
Location: Rowan School of Medicine, Stratford Campus - Multipurpose Room
October 23, 2021: Axe & Arrow Brewery - Tour, networking and great drinks!
Axe & Arrow Brewery*
Networking, private tour, and expert startup business insights from the entrepreneurial owner, Krystle Lockman who is also a Rowan MBA alumnus. 
Event Date: Saturday, October 23rd
Time: 1:00PM – 3:30PM
Location: 105 W. High St. Glassboro, NJ 08028
A Rowan University MBA puts students in a position to succeed in any venture they pursue. That statement rings true for Rowan's MBA Alumna, Krystle Lockman. Krystle is the Co-Founder & Operations Manager for Axe & Arrow Brewery on Rowan Boulevard in Glassboro.
Our graduate business students joined us at Axe & Arrow for a private tour of the brewery, an opportunity to hear from Krystle, ask some questions and enjoy some drinks and food under an outdoor tent. 
Krystle Lockman
At Axe & Arrow, Krystle oversees finance, marketing and compliance -- breweries are a highly regulated industry! -- and helps to manage the brewhouse. In her quest to launch their campus-adjacent brewery, Krystle quickly navigated understanding of determining and managing startup costs, developing a brand, acquiring and setting up equipment, creating financial forecasts, meeting legal requirements, and exploring recipe conception through to production, brewing, and bottling. Still, in the early stages of the business, Axe & Arrow is now focused on excellence in products, customer experience, and serving as a valued community member on Rowan Boulevard. Krystle spent over a decade as an accountant: mergers and acquisitions, bank reporting and covenant management, board reporting, leading the implementation of a new ERP system, always focused on improving operations for cost savings through accounting strategies and techniques. She attended Gloucester County College where she earned her AS in Business Administration and Management. She then attended Rowan University to complete her BS in Accounting and her MBA with a concentration in Accounting. 
February 26, 2020: Partner Event - Medical Entrepreneurship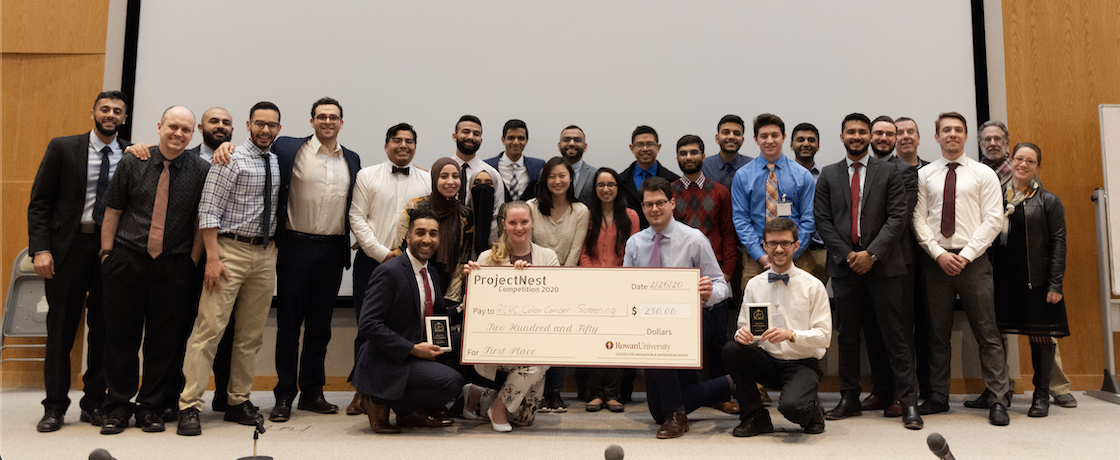 RowanSOM's InvestMed Club launched the inaugural ProjectNest Medical Entrepreneurship case competition in Spring 2020. The Rowan Center for Innovation and Entrepreneurship (RCIE) sponsored cash prizes for the event, and coordinated free legal consultation by Montgomery McCracken and accounting consultation services for the winning team to take the idea from concept to launch as a business.
The InvestMed Club sought to bring students from across Rowan University to explore solutions to critical issues for the stakeholders that Rowan serves (students, faculty, and local communities) through an interdisciplinary wellness entrepreneurship approach. 
The Office of Graduate Business Studies is excited to announce that the winning team included one of our MBA students! The winning team presented on "RCHC Colon Cancer Preventative Screening Initiative" and included team members Patrick J. Tempera and Maria Rita Anache from Rowan University School of Osteopathic Medicine and Victoria Ieradi from Rowan's Rohrer College of Business.
Rowan DO + MBA = Bringing Solutions to At-Need Population in Lindenwold
The winning project was based on the Rowan Community Health Center (RCHC), a free health care center that operates out of Lindenwold, New Jersey. The RCHC serves an extremely at-need population, the vast majority of whom either do not have health insurance or do not have access to health care. Despite providing treatments, referrals or routine physicals, RCHC lacks screening services. A local health needs assessment reported that as little as 15.8% of the Lindenwold population have access to colon/rectal screening, well below the national average of 22%. ProjectNest allowed the platform the means to advocate for the availability of this screening test for RCHC. The winning case competition team researched and pitched cost/benefit analysis, expected impact, as well as implementation planning for a low-cost and high-impact solution to this problem. The clinic is now able to rapidly and cost-effectively screen patients for colorectal disease, a service the Lindenwold community would otherwise have a large barrier to receiving. With the help of testing kits, in addition to providing patient education, disease prevention can help spare RCHC patients and their families from enduring an unwarranted cost, both medically and financially.
Future Medical Entrepreneurship Events
This was a great opportunity for relationship building for MBA students interested in a career at the intersection of healthcare and business. 
The RowanSOM InvestMed team is planning to make this an annual event, with the next case competition occurring in Fall 2020.
If you are interested and want to learn more, Rowan MBA, MS Finance, COGS, and CAGS students should contact Nathan Carroll at carrolln6@rowan.edu. 
Not only is Nathan a leader in the InvestMed Club and more than halfway through his DO program, but he's a recent MBA alumnus and is eager to facilitate relationship-building between students in the Schools of Business and Medicine at Rowan. 
You can learn a bit more about Nathan and his philosophy on the connections between business, medicine, and healthcare in this Rowan Blog feature!
December 9-12, 2019: End of the Semester Coffee Klatch
Each semester we invite our students to join us to kick-off and close the semester at a Coffee Klatch gathering in the Office of Graduate Studies! During the first week of classes, and then again the week before finals, we will serve up coffee and refreshments from 5:30 to 6:30 PM each night Monday-Thursday for our current MBA, MS Finance, COGS, & CAGS students. We encourage students to visit, grab a coffee and a snack, and enjoy some casual conversation and networking with classmates. This event is open to all of our students: Online, Hybrid, or Cooper students come out to Glassboro too! Best of all this event is FREE.
November 22, 2019: Philadelphia 76ers vs San Antonio Spurs - Sixers Win!
Philadelphia 76ers vs San Antonio Spurs - Sixers Win!
MBA, MS Finance, COGS, and CAGS students and their guests (nearly 50 participants in total!) joined us on November 22nd to explore the brand new Wells Fargo Center Assembly Room as the 76ers took on the San Antonio Spurs. It was a night full of cheers, fast-paced action, and a competitive spirit.  We all enjoyed exploring the new 23,000 square-foot space that offered awesome views of the game, multiple bar and lounge areas complete with fireplaces, game screens, and communal seating areas. Best of all this night of action brought our students and guests together for making connections.
"Coming to events like this makes for a low stress and fun environment to get to know your peers. I learned more about my fellow classmates in a few hours than I did after a whole semester with them." ~Victoria Ieradi
"Fantastic event, quality people, exciting atmosphere!" ~Gabrielle Jean-Baptiste
"Networking and a Sixers win! Nothing better!" ~Victoria Owens
November 14, 2019: Corporate Site Visit - Revel Nail
Corporate Site Visit - Revel Nail
Revel Founder Phon Malone hosted a corporate site visit for a group of Rowan MBA students to experience a behind-the-scenes tour of an innovative firm that has grown through both process and product improvements.
A small but global-reaching company with distribution across over 50 countries, Revel Nail produces, markets and sells its own line of dipping powder, gel, and traditional polish, supplies, and accessories. In addition to a thriving B2C e-commerce business, Revel products are carried in every Walmart in the U.S. and Canada, and they also have a strong private label line as well.
Phon, a Rowan MBA Alumni turned C-level leader, had many insights to share that he gained over the past six years growing Revel from a small startup run from his home to generate revenues of over $16 million annually.
Key points of success stem from Revel being proactively adaptive – rapidly scaling up production and financing to meet demands by Walmart, product improvements and disruptive innovations to keep Revel growing and competitive, and data-informed decisions and innovative marketing.
Whether discussions included corporate partners, delegating to talented staff management of day-to-day operations, or nurturing customer loyalty through excellent service, Phon reinforced the importance of corporate culture and building relationships and trust in defining the values and direction of the firm.
For example, Phon's "Two Day Challenge" is a talent-management strategy we all found interesting and inspiring. New managers are given four months to train their team, including delegation of responsibilities and cross-training of staff. Then they must take a two-day paid vacation with zero interaction with their team – no phone, email, or texts. The goal is to ensure the new manager is establishing a team that can problem solve and works independently, all leading to more efficient and sustainable operational processes.
"Phon's story of the challenges he faced when his product was accepted into Walmart stores was very interesting. I find it very relatable in my profession that it is absolutely imperative that you maintain strong relationships with your vendors as there are many times you will rely on them to deliver for you! The business world is all about building, developing and maintaining relationships. It was a fun experience visiting the thriving business of a former alum! I find entrepreneurship very interesting and it was great learning about the many successes and challenges faced along the way. I would recommend these site visits to anyone looking to continue to build upon their business acumen." ~John Knapp
October 19, 2019: Creamy Acres Fall Festival (Family Friendly Event)
Creamy Acres Fall Festival (Family-friendly Event)
A crew of Rowan MBA students visited Creamy Acres Fall Festival on October 19th – and brought along their loved ones for the seasonal fun! Creamy Acres is a family-owned farm in Mullica Hill that has an open-to-the-public dairy farm and garden center. We enjoyed Hayrides, Pumpkin Picking, a Kiddie Corn Maze, and Pumpkin Painting. The Creamy Acres "petting zoo" was a fun way to check out chickens, ducks, geese, pigs, a donkey, and cows.
"Rowan's MBA offers the opportunity to network with many of your cohorts. Many of the venues are family-friendly and the staff are always welcoming and down to earth. It has truly become a family environment that I look forward to experiencing further." ~Marguerite Hodges