MBA Fellowships
MBA Fellowships
RCB fellowship program funds MBA and MS in Finance students committed to business for the greater good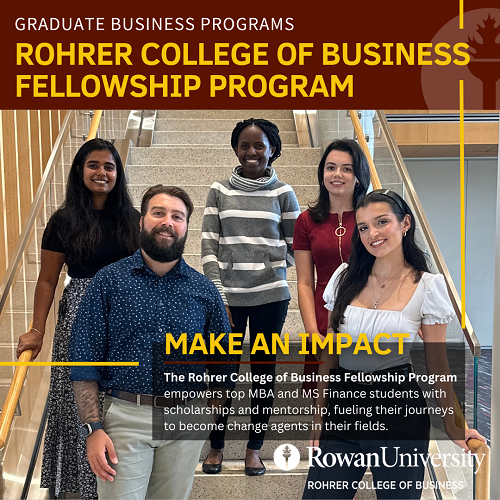 In a rare, valuable and community-focused program, the Rohrer College of Business (RCB) funds graduate students whose ideals and career goals align with the college's emphasis on business for the greater good.
This year's RCB fellows cohort have some or all their tuition paid for through the William G. Rohrer Charitable Foundation and are paired with organizations that aspire to better humanity and/or the environment.
"We seek people who want to be a change agent, who want to create positive societal impact," said RCB Assistant Dean and MBA Director Jennifer Maden.
Launched in 2021 and expanded this year, the RCB Fellowship Program pairs participating Master of Business Administration and Master of Finance students with organizations in which students utilize growing business expertise while building experience.
For 2023-24, those organizations include Finland's Jamk Institute of Bioeconomy; British sports car maker McLaren; the Bullock Garden Project in Glassboro; Rowan's Center for Responsible Leadership within the RCB; and the Rowan Innovation Venture Fund (RIVF), a $25 million private-equity fund that invests in scalable businesses throughout the South Jersey region.
Maden said the fellowship program helps graduate students develop skills to effect positive change for people and the planet as they expand their business acumen.
"The Rohrer College of Business is committed to business for the greater good and many of our students do, in fact, pursue business careers with a focus on contributing to making a better world," she said.
RCB Lecturer Greg Payton, the lead program mentor, said businesses with an eye on social, environmental and sustainable impact expose students to a wide range of careers that they may not otherwise consider.
"We want them to see there's opportunity in both the profit and non-profit sectors as well as presenting the option of going out and creating their own opportunity," said Payton, who teaches in the RCB's School of Innovation & Entrepreneurship.
For admission as fellows, students must be fully accepted into the college's MBA or MS in Finance program, submit a resume and letters of recommendation, and, in two rounds of interviews, articulate why they'd be a good fit.
Gunning for the environment
A veteran of the U.S. Army, Zachary Rouhas initially attended Southern Illinois University before enlisting as an M1 Abrams tank crewman.  After a decade of service and three overseas deployments, Rouhas transitioned back to civilian life, graduating summa cum laude in May from Rowan's School of Earth & Environment with a degree in Environmental & Sustainability Studies.
Now an MBA fellow, Rouhas has partnered with Rowan's Center for Responsible Leadership and McLaren, researching sustainability in motorsports.
"Racing is inherently unsustainable," Rouhas said. "We're doing environmental impact statements for Formula 1 racing to see if we can reverse that."
In his role in Corporate Responsibility at Subaru of America, Rouhas believes corporations can thrive while fighting climate change and helping the environment.
"For me, the dream job would be director of sustainability of a Fortune 500 company," he said.
Training responsible leaders
A 2022 graduate from Rowan's College of Science and Mathematics with a degree in biological sciences, Larah-Ann Petersen's fellowship pairs her with the RIVF, where she's exploring how to develop initiatives supporting underrepresented and underserved business founders as she explores career options in financial technology.
As an undergraduate, Petersen developed a passion for data science, statistical analysis and writing code, all of which she's drawing on as she explores career options and completes her MBA.
The RIVF expanded to $25 million last year with a mission to grow scalable area businesses, which can directly impact the environment and the region's economy.
"My goal is getting real world experience," Petersen said. "Growing businesses with a focus on the greater good is definitely important."
Rounding out this year's cohort are Rowan alumnae Aarushi Gupta and Siena Rampulla.
Gupta, who graduated in 2023 with a degree in Environmental and Sustainability Studies, is pursuing an MBA with a concentration in sustainable business. She's interested in finding ways to make higher education more sustainable and seeks a career in that sector.
Also a 2023 graduate but with a degree in psychology, Rampulla won the RCB's New Venture Competition last spring for a phone app she's designing to help keep women safe on campus and off. As an MBA fellow, Rampulla is conducting market research to inform bioeconomy firms in the Baltic Sea region on the feasibility of entry into American markets.
Sarah Atai will graduate from the program this semester. Originally from Uganda, her background in public administration and nonprofit management led her to work in nonprofit community outreach. Her key and final fellowship project is with the Bullock Garden Project, a Glassboro-based nonprofit dedicated to empowerment and education with a focus on historically marginalized communities and communities with high rates of poverty.