Julian Doroteo
Julian Doroteo
In business and in service, entrepreneurship major makes his way—and a way for others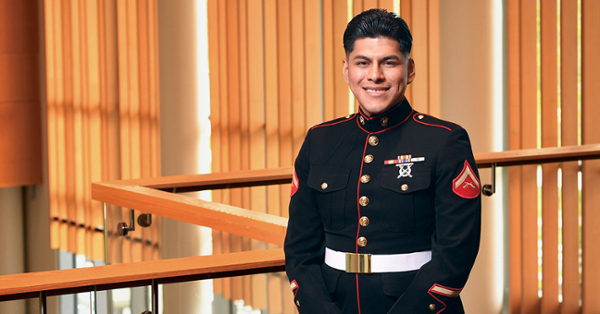 Julian Doroteo discovered early that he wanted to be a barber.
But more than just having his own chair, the Bridgeton resident wants his own storefront. And then a chain of storefronts. And a school to train others so they, too, can one day have their own storefronts. 
In pursuit of that dream, the first-generation college student and licensed cosmetologist transferred to the Rohrer College of Business (RCB) to earn a Bachelor of Science in entrepreneurship. Already a Marine Corps reservist, he plans to open his first barber shop on Rowan Boulevard this fall.
Though his initial passion for cutting hair set him on his current path, the 24-year-old found real footing—along with inspiration, mentorship and examples to follow—through the RCB entrepreneurship program.
"Professors Eric Liguori and Greg Payton were great mentors," Doroteo said. "Studying with them made me realize that everyone who makes it starts from the bottom and works their way up."
Failure isn't just possible for aspiring entrepreneurs, Doroteo learned. It's inevitable.
"As Professor Payton said, fail young and fail often. But every time you do, get back up a little stronger," he said.
Tradition and determination
Doroteo enlisted in the military in part to carry on a tradition of military service started by his father, who served in the Mexican army. 
In addition to his business aspirations, Doroteo plans to apply to Air Force Officer Training School following Commencement this week.
He has already proven his determination to simultaneously pursue both his military service and entrepreneurial goals. Last fall, he competed in RCB's Idea Challenge, a program that provides seed money for promising student business ideas. 
Although his team's idea for a phone app called SHEARS made it to the finals, it did not place high enough to earn seed funding.
Still, just pitching the app idea, which would ease the booking process for barber shops, was a learning experience, Doroteo said. The infantryman was scheduled for training the weekend of the Idea Challenge finale so he did what any enterprising Marine would do. He got permission, then video-called in—from a latrine at Fort Dix.
"The only place I'd get peace and quiet where you couldn't hear gunshots was in the bathroom," Doroteo said. "There was a group chat while we were giving the presentation and someone said, 'Is that a rifle?' but of course it was. You have to carry it, always."
Hands of an artist with a head for business
Doroteo, who is serving a six-year enlistment in the Marine Corps Reserve, said the dual career path of military service and barbering speaks to his patriotic and creative sides and he's well on his way to building his business.
Enrolled at Rowan while barbering part time, he began cutting hair for friends on campus, then for friends of friends, and soon developed a following.
"I probably have over 50 clients just at Rowan and another 90 or so back home," Doroteo said. 
After emigrating to the United States, his father wanted to start his own company, but with limited English and no financial backing, that proved difficult.
Inspired by his parents' strong work ethic, Doroteo knew hard work alone was not enough. That led him to work toward his entrepreneurship degree.
"I came to school to learn the terminology, the language, the rules of opening a business," Doroteo said.
Armed with his degree, a base of knowledge about starting a business, and connections he's built at Rowan, Doroteo is looking into a government-backed small business loan to launch his first shop. And with his girlfriend, who is also a licensed cosmetologist, three experienced haircutting friends, and an established following around campus, Doroteo is eager to do just that.
"What sets me apart is my scissor work and, of course, my passion for business," he said.
Payton, who co-directs the Rowan Center for Responsible Leadership, served 27 years in the Army and had a career in banking before coming to Rowan. The RCB faculty member couldn't help but be impressed by Doroteo.
"Julian has a 'never quit' mindset that is essential for any entrepreneur," Payton said. "I was honored to have Julian as a student in my small business management class and most impressed with his desire to give back to the University and help others in the community."
Rowan University supports the U.S. military and its veterans. However, it is not officially connected to or endorsed by the U.S. Department of Defense or any of its branches.