Garbage and Recycling
Garbage and Recycling
Researching the business of garbage and recycling
There is nothing trashy about Dr. Jordan Howell. Except for his research.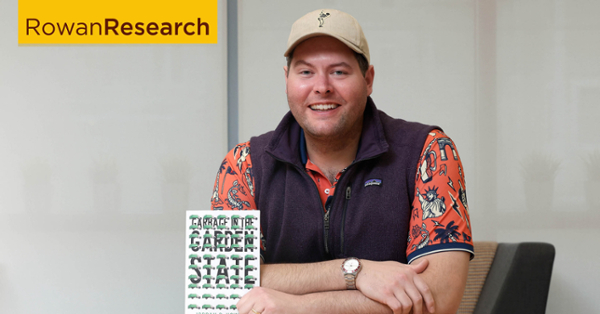 Howell, an associate professor of sustainable business and co-director of the Rowan Center for Responsible Leadership in the Rohrer College of Business (RCB), sees recycling and waste management as key challenges facing humanity. However, they are also opportunities.
Working with colleagues Dr. Daniel Folkinshteyn and Dr. Jordan Moore, the trio recently published "The potential for exchange-traded futures on recycled materials to improve recycling efficiency" in the journal Investment Management and Financial Innovations.
"We're taking the idea of a futures contract and applying it to recycled materials," Howell said. 
Presently, "you can go online and get a contract for, say, aluminum, but not for recycled plastic. Our idea is that if you had a futures contract and market for recycled material, it would help get more recycled content into products," explained Howell. 
Originally from Michigan, Howell authored Garbage in the Garden State, published on April 14 through Rutgers University Press. The book discusses the history of New Jersey's waste management practices.
Despite New Jersey's reputation (at least among some comedians and non-residents) as a trash-strewn wasteland, Howell said the state does a good job handling a voluminous amount of trash and has a history of doing so.
"New Jersey's landfills are and have been well regulated and well managed and that's kind of what my book is about."

Howell also served on the New Jersey Pinelands Commission from 2018 to 2021 and has examined the New Jersey pineland development credit program as a market mechanism to achieve land preservation goals.

Howell, a Rowan faculty member since 2013, collaborated with the School of Earth & Environment and RCB to develop a unique degree program that combines environmental and sustainability studies with business administration. Students can earn a Bachelor of Arts in environmental and sustainability studies and an MBA in five years. The academic program is the only one of its kind in New Jersey.
Rowan University researchers are passionate about what they do. Find more at Meet Our Researchers.