50 Suits for 50 Students
50 Suits for 50 Students
RCB Golden Anniversary gift: Rowan Alumnus funds 50 suits for 50 students
A new suit.
It's the kind of gift that alumnus Anthony "Tony" Galvin could have used when he was in college. 

But like many students, Galvin did not own a suit when he started college and borrowed what he needed for job interviews and socials.
"My friends and I were all first gen, post war Baby Boomer kids," Galvin said. "But just because I didn't have help doesn't mean it wouldn't have been nice to have some."
A 1989 graduate with a degree in Business Administration, Galvin serves on the Rowan University Foundation Board and the Rohrer College of Business (RCB) Dean's Advisory Council where he'd heard about an idea: 50 suits for 50 students as part of the RCB's 50th anniversary celebration this year. The only problem – it wasn't clear how the suit program would be funded.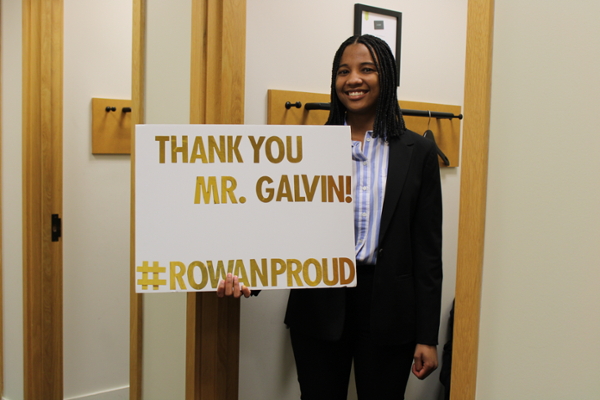 So, Galvin said he'd pay for it himself, and promptly wrote a check for $15,000.
A retired senior vice president for Real Estate, Store Planning and Construction with luxury brand Coach, Inc., Galvin served as executive vice president for the Chelsea Property Group and in 2016 was inducted into the Outlet Industry Hall of Fame.
"Making a good first impression is always important," the veteran businessman said. "If you're going into a traditional path, maybe work for a public company, you need to look and act the part to get into the club."
Amie Ryno, manager of the RCB's Center for Professional Development, said the college held previous "dress for success" initiatives but never for this many students.
"Our goal was to outfit 50 first-year students so they would have professional attire to use throughout their college career and beyond," Ryno said. "An application process launched in October for students to win a full suit valued up to $300. A committee of RCB faculty and staff reviewed the applications, and first-year students were awarded at the start of the spring semester."
Students went on group shopping trips to the J. Crew Factory Store in Blackwood March 3, 6 and 8.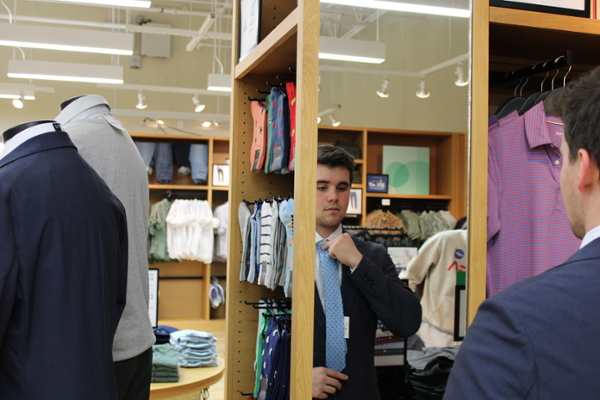 Bryan Emery, a senior marketing and management double major from Hightstown who interns with the professional development center, said about 100 first-year (freshman or transfer) students applied to the new suit program.
"We had them answer three simple questions, and they could elaborate as much as they wanted," said Emery, who graduates in May with a job lined up at French personal care company and cosmetics giant L'Oréal. "They had to describe their personal style and how a suit would enhance them; how a new suit would accelerate their career journey; and why they felt they deserved one. Some answered based on need but some simply because, as a business major, they wanted to start their college career strong."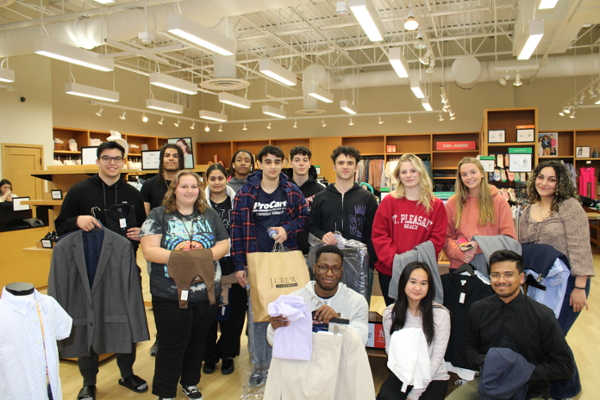 The RCB is celebrating its golden anniversary with a variety of programming throughout 2022-23. In addition to the Dress for Success program, the college has arranged a mini-internship initiative providing more than 50 experiential learning opportunities ranging from just one day to as long as a few weeks with industry partners, Ryno said.
Celina Mansfield, a Management Information Systems student from Westville who was selected for the new suit program, said she's grateful for the opportunity that Galvin funded.
"Walking into an interview it's really important to be professional and put together," Mansfield said. "I've actually had to borrow clothes from friends (for interviews). It's nice to have something of your own."