Daniel Folkinshteyn
Daniel Folkinshteyn
Daniel Folkinshteyn, Ph.D.

Professor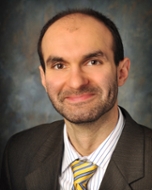 Contact Info
856-256-4205
Business Hall, Room 415
Biography

Dr. Daniel Folkinshteyn received his Ph.D. in Finance and M.B.A./M.S. in Finance from Temple University, as well as a B.A. in Molecular Biology from Yale University. His teaching interests include corporate finance, financial markets, behavioral finance, and cryptocurrency. As a member of the Department of Accounting and Finance at Rowan University, he teaches courses in the undergraduate major. He is also the faculty advisor to the award-winning Rowan Chapter of the Financial Management Association, the Rowan Student Investment Group,  the Rowan Cryptocurrency Club, and the Rowan University Gaming Club. His research interests include public debt markets, investor behavior, and cryptocurrency. Prior to joining Rowan University in 2011, he had taught undergraduate finance at Temple University for 4 years.
Education
Ph.D., Finance, Temple University
M.B.A. and M.S., Finance, Temple University
B.A., Molecular Biology, Yale University