Student Success Boards
Student Success Boards
Check Out the Student Success Boards
The next time you're in Business Hall, check out the success boards in the Hub.
Virtually every day, you will find a student scrawling his or her new full-time position or internship on a large poster.
Some of the latest employers are Capital One, JPMorgan Chase & Co., Aramark, Bristol-Myers Squibb, Holman Enterprises and many more.
Ninety-four percent of the RCB's Class of 2018 graduates who were surveyed have landed positions, have been accepted to graduate schools or will be serving in the military or other organizations. "It's better than it ever been," said Amie Ryno, manager of the Center for Professional Development.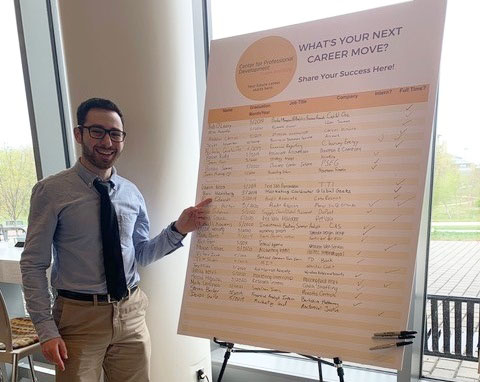 And the good news keeps coming.
Since September, students have filled four and a half boards. "We use the data to help current and future students. It informs us about where our students are getting jobs and where we can encourage more engagement with employers," Ryno said.
Although the College tracks placements electronically, the boards build excitement. "Students take selfies of themselves in front of the boards, and their peers often look at the boards to see where others are going," she said.
Ryno used to bring out the boards only at the end of the semester. "But they're getting offers all of the time," she said. "We ended up putting them out early in the fall semester because seniors who had summer internships and were offered full-time positions wanted to report it. I didn't want to lose the momentum while they were excited. I keep them out all year long now."