Dean's Message
Dean's Message
Dean's Message
As the spring semester ends, the Rohrer College of Business (RCB) has much to celebrate.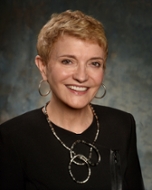 The last cohort of students who started their college career in Bunce Hall, and experienced the transition to our amazing new home, Business Hall, graduated on May 14th.  Six hundred and twenty of these students were inspired by the words and experiences of this year's commencement speaker, alumna Debra DiLorenzo, who retires at the end of this year after serving 24 years as the CEO and president of the Chamber of Commerce Southern New Jersey.  Alumni Kathleen Davis and New Jersey State Senator Troy Singleton were also recognized for their service during this year's commencement services.
While commencement is a time to celebrate the accomplishments of all of our students, graduating senior Mike Rozanski's story of resiliency in the face of loss is particularly moving.
The Rohrer Center for Professional Development, RCB's career services center, is committed to helping graduates achieve their professional aspirations.  Recently released statistics from the class of '18 and data on the employment status of '19 graduates are cause for celebration.
Faculty provide the curricular backbone of our programs and serve as career mentors for our students.  Many also actively integrate their prior work experience and research into their coursework.  One such faculty member is MIS Assistant Professor Michael Milovich.  Two longtime faculty members, Dr. Gulser Meric and Dr. Shifei Chung, who together have served our students for over half a century, are retiring at the end of this year and will be sorely missed.
RCB's centers of excellence – the Center for Innovation & Entrepreneurship, the Center for Responsible Leadership, and the Center for Experiential Learning – continued to thrive this year as evidenced by milestone events and key facts and figures.