Susan Lehrman
Susan Lehrman
Susan Lehrman, Ph.D.

Dean, Rohrer College of Business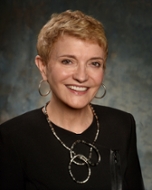 Contact Info
856-256-4025
Business Hall, Room 426Q
Biography

Susan Lehrman, who received her Ph.D. from the University of California at Berkeley, serves as dean of the William G. Rohrer College of Business at Rowan University, where she is a leader in the development of innovative academic programs and entrepreneurial activities. Lehrman utilizes a collaborative approach in working with business leaders to create opportunities for her students. Prior to her time at Rohrer, Dr. Lehrman served as dean of the Philadelphia University School of Business Administration, Founding Dean of the Providence College School of Business, and Founding President of Union Graduate College (an independent spin-off of Union College in Schenectady, NY). Dr. Lehrman had a 10 plus year career in health care management before pursuing an academic career, which remains a strong passion and an area of research.
Education
Ph.D., University of California at Berkeley, Health Services Research and Policy Analysis
M.P.H., University of California at Berkeley, Public Health Nutrition
B.S., Oregon State University, Education