Morris Kalliny
Morris Kalliny
Morris Kalliny, Ph.D.

Associate Dean & Professor of Marketing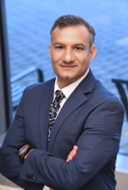 Contact Info
856-256-5226
Business Hall, Room 426J
Biography

Morris A. Kalliny holds a Ph.D. in International Business and Marketing from The University of Texas-Pan American. He is currently serving as the Associate Dean of the Rohrer College of Business and Professor of Marketing at Rowan University. Dr. Kalliny heled various academic positions where he served as a faculty and programs director at Missouri University of Science and Technology, a faculty member at Saint Louis University and an Associate Dean and Interim Department Chair at Eastern Washington University. Professor Kalliny has taught marketing and international business courses at the undergraduate, MBA, Executive MBA, and Ph.D. levels. He has also been active with AACSB where he has heled several 2-day effective teaching seminars and spoke at various AACSB events.
Dr. Kalliny has been honored with a numerous research, teaching, service and advising awards including, Faculty Excellence Award, the highest award bestowed upon faculty at Missouri University of Science and Technology, The Nokyoon Kwak Faculty Research Award at Saint Louis University, Best Professor of the Year for the Executive Master of International Business, The Boeing Institute of International Business at Saint Louis University, Outstanding Teaching Award, Missouri University of Science and Technology to name a few.   
His research efforts focusing on cross-cultural marketing, media, and the Arab region has resulted in more than 80 refereed journal articles, book chapters, conference proceedings, and an edited book. His research appeared in various academic journals such as the Journal of Advertising Research, Journal of Current Issue and Research in Advertising, International Journal of Consumer Studies, Thunderbird International Business Review, Journal of Global Marketing, Journal of Promotion Management, Journal of Consumer Marketing, Journal of Political Marketing, Multinational Business Review, Journal of Marketing Communications, and (DATABASE) Database for Advances in Information System amongst others.
Education
Ph.D., Internation Business and Marketing, The University of Texas-Pan American
M.B.A., Northwest Nazarene University
B.A., Business Administration and Education, Middle East College/University