Ihsan Isik
Ihsan Isik
Ihsan Isik, Ph.D.

Professor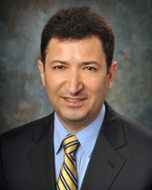 Contact Info
856-256-4205
Business Hall, Room 419
Biography

Dr. Ihsan ISIK is a full time tenured professor of international banking and finance at the Department of Accounting and Finance, Rohrer College of Business, Rowan University, Glassboro, NJ.
Dr. Isik received his B.S. in Management with honors from the Middle East Technical University (ODTU), in Ankara, Turkey  in 1992; his M.S. in Finance from Texas Tech University (TTU) in 1995, Lubbock, Texas; his M.A. in Economics in 1997 and his Ph.D. in Financial Economics from University of New Orleans (UNO), New Orleans, Louisiana in 2000. He has several conference presentations and research papers on financial institutions and markets, of which two appeared in the number one banking journal, Journal of Banking and Finance, where they were the 12'th and 17'th most requested articles in 2002 and 2003, respectively. His research papers on national, emerging and international financial markets have appeared in tier one finance and economics journals such as Journal of Banking and Finance (2), Journal of Financial Research, Financial Review, Journal of Business Finance and Accounting, Quarterly Review of Economics and Finance (2), Journal of Policy Modeling, Journal of Multinational Financial Management, Journal of  Economics and Finance, Journal of Real Estate Literature, and Journal of Business and Economics, among others. 
Dr. Isik's papers have received over 2,000 citations since 2003 (Google Scholar). Dr. Isik is also the 3 times recipient of Rowan Alumni Advisory Council Award for Scholarly Achievement and Wall of Fame Teaching Awards and the holder of several national and international best paper, outstanding researcher and honorary cash awards for research, such as from the Merrill Lynch Center for the Study of International Financial Services and Markets, Hampstead, New York, USA ; EMERALD Literati Network, Bingley, England; the Interdisciplinary Business and Economic Research Conference in Osaka, Japan; the International Interdisciplinary Business-Economics Advancement Conference in Las Vegas, Nevada, USA; International Applied Business Research Conference in Orlando, Florida, USA; European Applied Research Conference, Venice, Italy; American Society of Business and Behavioral Sciences Conference, Las Vegas, Nevada, USA; Economic Research Forum Conferences in Cairo, Egypt/ Marrakesh, Morocco/ Sharjah, UAE.
Dr. Isik also serves as the founding Chairman and CEO of the American Turkish Chamber of Commerce (ATCOM), headquartered in New Jersey, USA. ATCOM operates as the American partner of the Istanbul Chamber of Commerce (ITO) and Independent Industrialists and Businessmen Association (MUSIAD), two of the largest business alliances in Turkey. Dr. Isik is also the former board member of the World Turkish Business Council, an initiative by the Union of Chambers and Exchanges of Turkey (TOBB). Dr. Isik has also worked as a consultant on a number of projects for Istanbul Municipality and the Central Bank (FED) of Turkey. Prof. Isik's essays and comments on current business and finance affairs appear in some Turkish and international dailies. Dr. Isik is a member of the International Financial Management Association and a research fellow of the European Union funded Economic Research Forum (ERF). Prof. Isik is married with twin daughters and resides in New Jersey, USA.
Education
Ph.D., Financial Economics, University of New Orleans
M.A., Economics, University of New Orleans
M.S., Finance, Texas Tech