Howell, Jordan
Howell, Jordan
Jordan Howell, Ph.D.

Associate Professor of Sustainable Business Dept. Geography, Planning & Sustainability and Dept. of Management & Entrepreneurship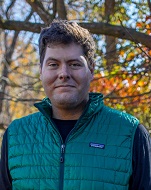 Contact Info
856-256-4500 ext. 4831
Business Hall, Room 216B
Biography
In my work, I study the environment and sustainability. In particular, I explore the history of 'how we got here' with a particular problem in addition to proposing solutions. I firmly believe regulations, educational & behavioral initiatives, and market-based solutions all have an important role in effective governance. We also have to be careful to understand the different attitudes and cultures surrounding the environment and sustainability before we act.
My current research examines the role of markets and financial instruments in enacting environmental and sustainability goals. In particular, some colleagues and I are studying the potential for financial products called exchange-traded derivatives (e.g., futures contracts) to improve the performance of markets for recyclable materials in the US. This project, supported by the New Jersey Dept. of Environmental Protection and undertaken in collaboration with industry partners, explores a new avenue for creating a viable, transparent, and active market for buying and selling recyclables. Some of my other major works to date have focused on the history and future of waste management in New Jersey (look for my book, Garbage in the Garden State, in 2021). This work has been supported by the National Science Foundation. I have also conducted research looking at other aspects of environmental policy and governance in the US and around the world. I was previously the co-director of the "Cultivating the Environmental Humanities" project (2017-2020), made possible through the support of the National Endowment for the Humanities.
I helped to develop and am proud to supervise, with colleagues in the College of Business, a joint degree program offering students the opportunity to complete a BA in Environmental & Sustainability Studies alongside a Masters' in Business Administration, because businesses are perhaps the most powerful tools we have to bring about sustainability goals.
Since January 2018, I have served as Commissioner on the New Jersey Pinelands Commission where I was also a founding member of the Land Use, Climate Impacts, and Sustainability sub-committee. In July 2019 I was named Chair's Designee to Pinelands Development Credit Bank, an institution facilitating the market-based transfer of development rights in the Pinelands in order to permanently protect sensitive ecosystems and landscapes. 
BA, Anthropology, College of William & Mary
MS, Ph.D., Geography, Michigan State University
MBA, Rowan University, expected 2021