Career Resources
Career Resources
Career Resources
Looking for an event on campus, career tools and resources, or a job? Follow the appropriate links below for additional help.
Sample Interview Questions
Behavior Based Interview Questions - list of behavior-based questions employers may ask
Big Interview Instructions - mock interview tool instructions
Day-Of Interview Tips and Sample Questions
Informational Interview Questions
Career and Job Search Resources
CareerShift - set of online applications to help job seekers find published and hidden jobs and career opportunities
Focus 2 Assessment - to help you navigate what to major in
ProfsJobs - to apply to internships, part-time, and full-time positions
Looking for an internship, part time or full time job? ProfsJobs is a resource which allows employers to post employment opportunities directly to Rowan Students. Start searching now!

How to Log In:

Click Students/Alumni
Use your Rowan e-mail and click "Forgot Password"
You will immediately receive a temporary password via email and can change to whatever you like.

Direct Link to Internship Positions
Direct Link to Full-Time Positions
Business Resumes and Cover Letters
*Note: you can click on each image below and download the pdf/docx file to use as a reference.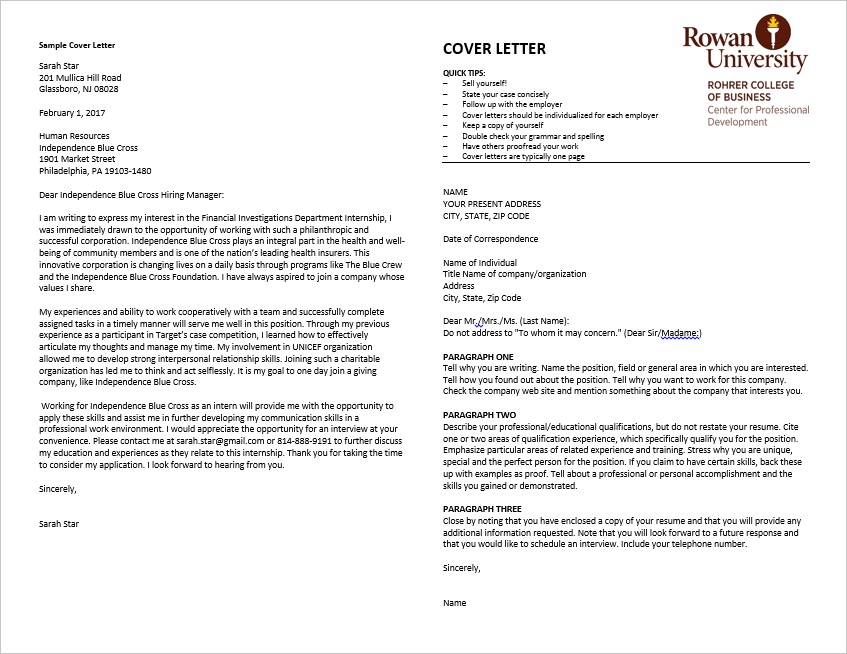 Networking and Student Services
LinkedIn - Connect with employers and peers
Mentor Programs – list of Rowan University Mentor Programs you can join on campus
Professional Associations – list of Professional Associations based on major
ProfLink - to find information about events on campus
ProfLink is the primary resource to discover events going on around Rowan.  Check out upcoming COB  and RCPD events here! Join the Rohrer COB page today!

The Center for Professional Development also encourages business students to follow along with their Career Development Modules by using ProfLink to stay up to date about due dates and requirements.

Note: If you are enrolled in a course this semester with an embedded career development module and it does not appear when you log into ProfLink please email us at: rcpd@rowan.edu