MBA/DO
MBA/DO
Doctor of Osteopathic (D.O.) & Master of Business Administration (MBA)
A collaboration between Rowan School of Osteopathic Medicine (SOM) & Rowan University's Rohrer College of Business.
Accelerated DO/MBA Program Benefits
Rowan SOM DO students in good standing are guaranteed acceptance into Rowan University's MBA Program
Rowan University accepts 9 graduate elective credits into Rowan University's MBA Program (leaving only 9 courses / 27 graduate credits to complete the MBA)
Rowan University provides DO students the opportunity to complete all MBA coursework within a 9 month period
DO/MBA Degree Overview
Develop a business view of the healthcare and medical industries
Build and manage medical practices and/or other business endeavors.
Establish productive and mutually beneficial working relationships with insurance companies, laboratories, hospitals, and other corporate partners
Assume leadership positions within for-profit and not-for-profit organizations (e.g. executive positions within insurance companies, pharmaceutical companies, hospitals, governmental organizations, professional societies, etc.).
Manage, motivate, and lead staff, health services teams, community members, etc.
Analyze and build personal and corporate financial wealth.
Understand the complexities and implications for making financial and managerial decisions
Invest time and resources using conceptually-sound business decision making practices
Analyze and refine promotion and marketing strategies
MBA Fellowship in Medicine
DO-MBA candidates are also encourage to consider applying to the MBA Fellowship in Medicine. MBA Fellows in Medicine are employed full time while studying part time, enjoy scholarship funding, engage in professional development opportunities that fuel the transition from specialist to strategist, and begin to bring ideas to life for leveraging medical and business expertise to better support patients, patients' families, local communities, and fellow professionals in medicine. 
MBA Fellowship - Medicine
Candidate Logistics
Candidates must apply to and be accepted by the School of Osteopathic Medicine DO and the Rowan MBA programs.
Typically DO students will pursue MBA studies s after completion of the second or third year of DO studies – be sure to work with Regina Wilmes at wilmesrr@rowan.edu, Registrar at RowanSOM, on planning timelines.
Students should plan on completing all Foundation Course (undergraduate) credits prior to beginning the MBA graduate-level work; this is often done during the summer between the first and second year of DO studies. See the Graduate Business Program Foundation Fact Sheet for options on satisfying these requirements.
The expectation is that students will complete the Accelerated DO/MBA degree program within five years.
The time between a student's first MBA course and their final MBA course may not exceed 6 years.
Streamlined MBA Application Process
Apply to the MBA using the Rowan Global Application Form

Waived: application fee, undergraduate transcripts, GRE/GMAT scores, and letters of recommendation.
Required: Current professional resume, Confirmation of good academic standing in SOM DO program (request verification from SomRegistrar@Rowan.edu to be sent to GraduateBusinessStudies@rowan.edu).

Once you've submitted all required components of your MBA application, please send an email to GraduateBusinessStudies@rowan.edu including your full name, phone number, student ID, and a statement that you would like to be considered for the expedited review process for the Accelerated DO/MBA Program.
Flexible Schedule & Delivery
DO/MBA students can choose from course format options including:

On the main campus in Glassboro (Fall and Spring)
Online (Fall, Spring, and Summer)
Hybrid: 50% online and 50% on campus in Mount Laurel (Fall, Spring, and Summer)

Formats and courses offered will vary by year and semester, so students will work with the Office of Graduate Programs in Business to select an optimal schedule based on preferences and availability.
Pre-MBA Foundation Course Requirements*
Students are permitted to transfer all Foundation Course credits. The Principles of Finance and Operations Management courses must be taken at a 4-year school to be eligible for transfer. However, the remaining foundation courses may be taken at a junior college (such as a community college). The MBA Program Director will determine, with the assistance of appropriate faculty, foundation course equivalencies.
Students must present evidence of having completed undergraduate college courses (foundation courses) equivalent to the Rowan courses listed below:
Calculus Techniques & Applications (or an equivalent)
Foundations of Accounting (Equivalent to Financial & Managerial Accounting)
Operations Management
Principles of Economics: Global Perspectives (Equivalent to Macroeconomics and Microeconomics)
Principles of Finance
Principles of Marketing
Statistics I (or an equivalent)
Sample Curriculum & Course Sequence for MBA Program**
Fall
Spring
ACC 03500 Managerial Accounting
MGT 06629 Managing Organizational Strategy
MGT 01510 Professional, Legal and Managerial Responsibilities
FIN 04500 Financial Decision Making
MIS 02500 Issues in Management Information Systems
MGT 06502 International Business and Society
MGT 07500 Managerial Decision Making Tools
MKT 09.500 Marketing Management
MGT 06500 Designing, Developing, and Leading High-Perf. Orgs.
(all courses are 3 S.H. unless otherwise noted.)
Get In Touch
Logistics for utilizing a "break year" in DO studies for pursuing the MBA

Regina Wilmes, M. Ed.

Office of the Registrar, Rowan University School of Osteopathic Medicine
wilmesrr@rowan.edu | 856-566-7055

Logistics and mechanics of the MBA application process

Tendai Vengesa, Admissions Recruiter

Rowan University
vengesa@rowan.edu | 856-256-5145

Academic program questions for MBA

Jennifer Maden, Assistant Dean and Director
Jason Salvatore, Program Coordinator

Rohrer College of Business Graduate Programs at Rowan University
GraduateBusinessStudies@rowan.edu | 856-256-4024
 * Students are permitted to transfer all Foundation Course credits. For details, see the Graduate Business Program Foundation Fact Sheet for options on satisfying these requirements. 
** All MBA courses are 3 S.H./credits each. Traditional MBA students would also complete 3 Elective or Concentration Courses, but the DO/MBA candidate may select three courses from the DO curriculum for the Office of Graduate Programs in Business to consider and approve to satisfy the MBA Elective Requirements.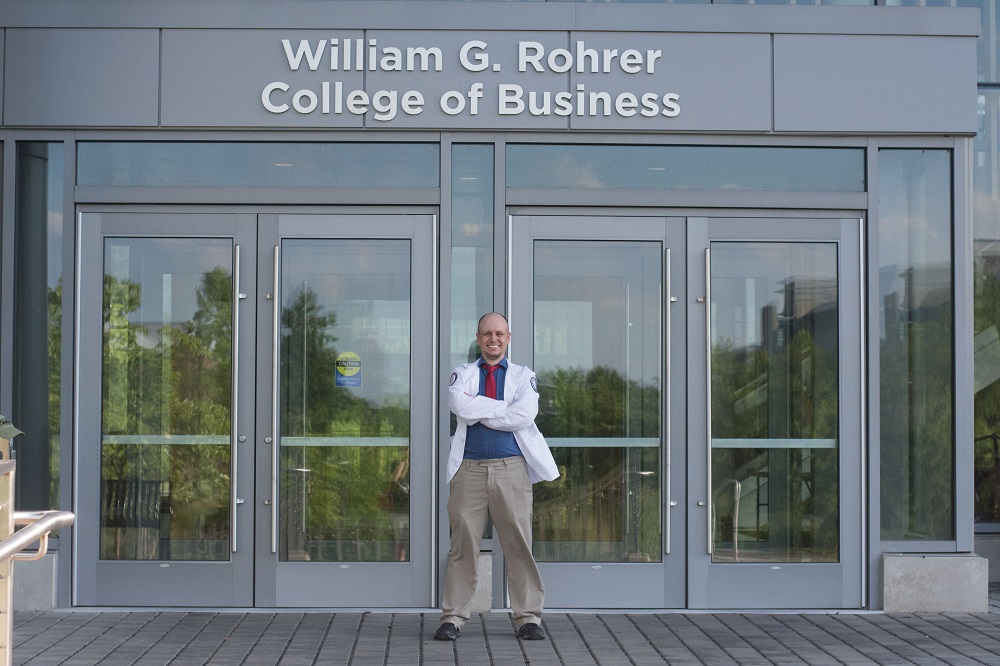 Why pair the MBA with a Doctor of Osteopathic Medicine degree?
MBA Alumni Nathan Carroll says it best, "The better you know how to use business as a tool, the better you're able to serve your patients. The better you're able to understand the financial implications in the decisions that you're making, the better you can serve your patients." Click the link below to read his story about the impact an MBA has had on his perspective and his medical career.