Think Like an Entrepreneur Summer Academy
Think Like an Entrepreneur Summer Academy
Think Like an Entrepreneur Summer Academy
The Think Like an Entrepreneur Summer Academy is a non-residential, educational experience for rising high school juniors and seniors. Participants earn 3 college credits equivalent to one college course of credit which can be used at Rowan or transferred for credit to another university.
Led by Dr. Michael Dominik, Dr. Eric Liguori, and Jessica Vattima, the program teaches the entrepreneurial mindset by introducing students to unique and interesting problems facing entrepreneurs in starting and operating new ventures. Students are broken into teams at the start of the program and tasked with finding a solution to one of the United Nations Sustainable Development Goals. Each week focuses on various topics including problem solving, customer discovery and engagement, design thinking, the Business Model Canvas, prototyping, financial analysis and resources, storytelling, and pitching. The Academy concludes with Final Pitch Presentations where five finalist teams present their idea to a panel of industry leading judges.
 "It's our expectation that students who participate in Think Like an Entrepreneur will be able to really hit the ground running in their first year at college, wherever they end up going."  
- Rohrer College of Business Dean Dr. Sue Lehrman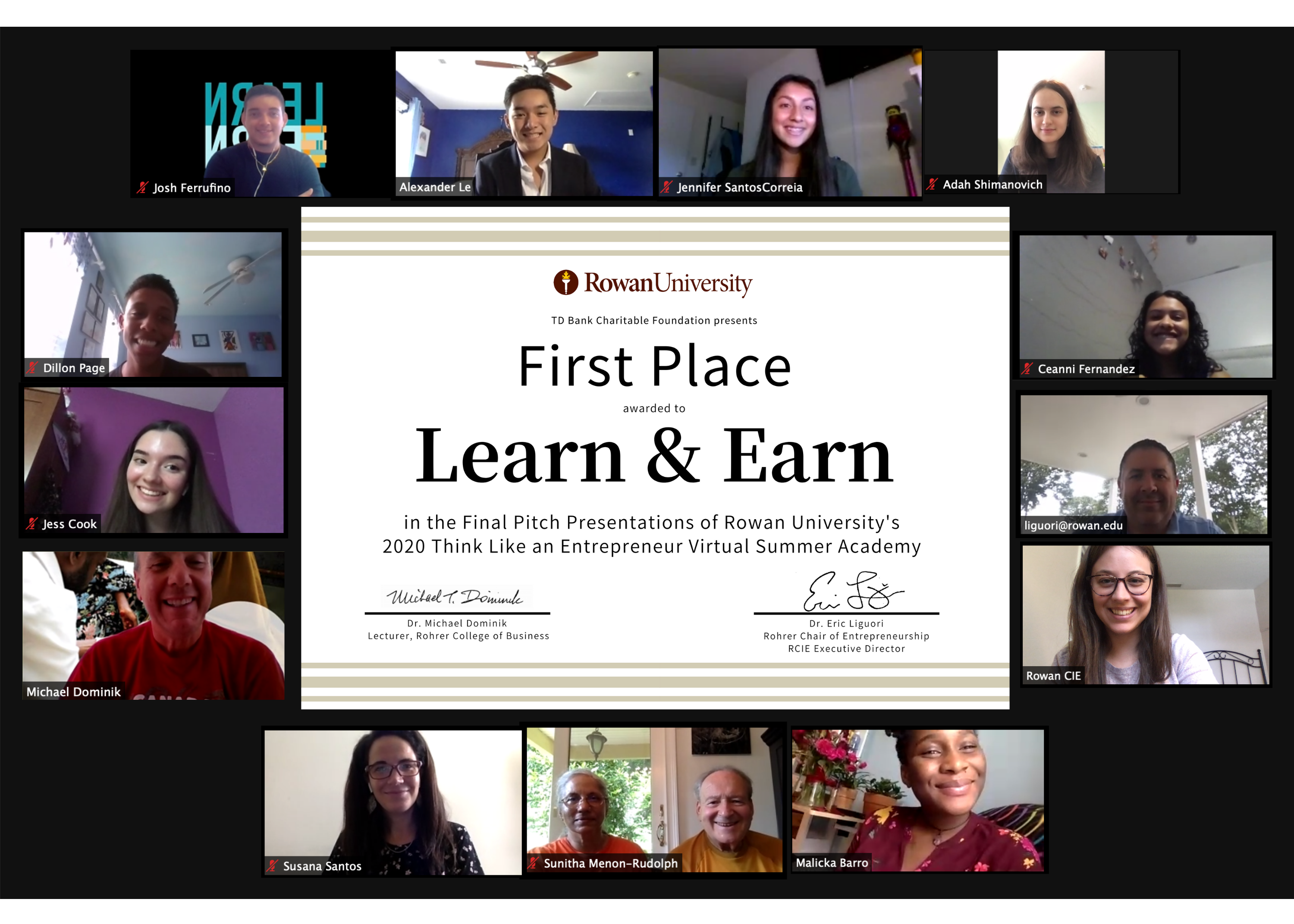 The Academy, typically spanning eight-days, started in 2017 with 24 NJ student participants and grew in 2018 to 48 NJ student participants and again in 2019 to 62 participants. In its fourth and most recent cohort, Rowan invited over 130 students from 7 states and 47 high schools to participate virtually. While the pandemic has been devastating in many ways, it has also allowed the Academy to expand and virtually connect with more students across the nation.
Thanks to the generous support of the TD Bank Charitable Foundation, participation in the academy is free of charge!
RU ready to think like an entrepreneur? Applications are typically posted in March on StartupTree. Reach out to Jessica Vattima (wolk@rowan.edu) for more information.