StartupRU
StartupRU
StartupRU
Since its inception in May 2018, StartupRU is Rowan's summer startup accelerator providing students with the resources needed togrow and scale their new ventures faster and more successfuly. This flexible summer program provides five types of support: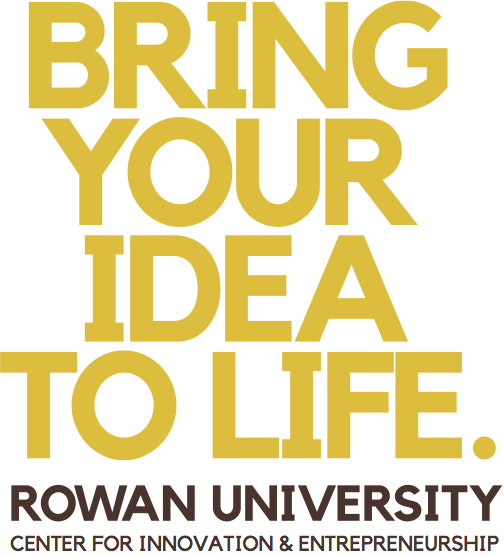 Financial – Ventures can be awarded up to $7,500 non-equity seed funding.
Strategic – Each venture is partnered with a dedicated coach to work with your team each week, has access to a team of incredible 'Startup Gurus' (seasoned mentors) and a faculty guide to help you along the way, and will attend bi-weekly special topic webinars led by amazing trainers.
Infrastructure – Each venture has access to the RCIE and its physical resources. This includes access to the StartupRU co-working and collaboration space, breakout rooms, and the Studio 231 makerspace.
In-Kind – Each team has access to in-kind services offered through the RCIE, including legal guidance, insurance consultations, software, etc. 
Additional Funding – Addiitonal non-equity seed funding may be available to teams throughout the duration of the program, based on need and traction, and subject to budget availability. In addition, equity-based seed funding is available from the Rowan Innovation Venture Fund (RIVF) upon completion of the accelerator program based on a competitive application process. RIVF funding is not a fit for every startup, so work with your coach to determine if applying is a good potential fit. 
Program Details
StartupRU is a 10-week program running from late May until early August. Teams engage in a weekly 1:1 meeting with their coach, bi-weekly professional development sessions on key topics (sales, legal, etc.), and a diverse arrary of experienced mentors are available by appointment as needed. The main goal of the program is to help startup teams move the needle forward on their ventures as fast as responsibly possible - it's all about building momemtum! 
Teams will be expected to complete a preliminary use of funds budget for approval, a mid-program check-in during week 5, an end of program summary report. Additionally, each team is expected to attend a luncheon with the sponsors and/or present their startup to the advisory council in the Fall or Spring semester (dates for both are to be determined).
StartupRU Team
Daniel James Scott, StartupRU Coach
Daniel James Scott is co-founder of five companies, a non-profit, numerous community initiatives, the undergraduate entrepreneurship program at the University of South Florida, and a seed-stage investment fund under the TechStars Network banner. He currently serves on the board of Yes.Fit, one of the nation's fastest-growing companies, and as on-air technology expert for iHeartRadio. Daniel has earned two master's degrees, an International Stevie medallion, two U.S. Small Business Administration advocacy awards, and more than four hundred media mentions including Entrepreneur Magazine, GeekWire, New York Times, TechCrunch and the Wall Street Journal.
Dr. Eric Liguori, Founding Head, School of Innovation and Entrepreneurship
Dr. Liguori is the Founding Head of the School of Innovation and Entepreneurhsip and Executive Director of the Rowan Center for Innovation and Entrepreneurship. In 2019 he became the youngest person ever elected to serve as President of the United States Association for Small Business and Entrepreneurship, the largest academic organization dedicated to advancing entrepreneurship education through bold teaching, scholarship, and practice. He is an active angel investor in the e-commerce and CPG space and serves as as Managing Editor of the Journal of Small Business Management. His work has been featured in media outlets including USA Today, U.S. News and World Report, Forbes, and BuzzFeed.
Jessica Vattima, Assistant Director, Rowan Center for Innovation and Entrepreneurship
Jessica (Wolk) Vattima is the Assistant Director of the Rowan Center for Innovation and Entrepreneurship. She holds a a Bachelor of Arts degree in Broadcast, Visual, and Interactive Media, with a concentration in TV Production, from Seton Hall University. Prior to Rowan, Jessica worked in production management in New York City with major networks such as Netflix, MTV, Comedy Central, Nickelodeon, and NBC. Jessica oversees all the day-to-day program operations for entrepreneurship at Rowan. 
Ernest Holtzheimer, Managing Director, Rowan Innovation Venture Fund
Ernest Holtzheimer is a corporate attorney and Member at Eckert Seamans Cherin & Mellot, LLC in the firm's Philadelphia office. He aims to successfully counsel businesses and individuals on a wide range of matters, including finance transactions, corporate structuring and compliance, securities regulations, mergers and acquisitions, venture capital and angel funding, real estate, and technology. Since 2020 Mr. Holtzheimer has served as the Managing Director of the Rowan's multi-million dollar Innovation Venture Fund.  
Eligibility and Selection Criteria
Rowan students, including those graduating this Spring or within the last 12 months, are eligible to apply. Faculty/student collaborative projects are also welcome. Graduate students and students enrolled in Rowan's medical schools or at RCGC or RCBC are eligible to apply. Before you apply, be sure you and your team are registered on StartupTree, and that you register your venture on the platform. 
StartupRU uses a variable award structure for its seed funding, meaning not all teams are awarded the same level of funding. This approach allows us to try and right-size the resources necessary to help a wide array of very different startups move forward efficiently. The needs of a drone technology company and the needs of a landscaping company are often different, meaning what is most important to building immediate momemtum in that company, and ultimatley growth and scale, vary, so funding decisions must take that into account. Final funding committments are made following a full review of your application and proposed use of funds, in consultation with the StartupRU coach and the RCIE leadership team. All funding is based on budget availability and subject to the final approval of the Head of the School of Innovation and Entrepreneurship.
To Apply
Applications are presently being accepted on StartupTree. Preliminary reviews will begin immediately and continue until all the funding allocations are awarded. For full consideration please complete your application by 11:59 pm on May 5.